CAPE CANAVERAL SPACE FORCE — After several delays, SpaceX successfully launched 22 Starlink satellites into orbit Thursday night.
---
What You Need To Know
SpaceX launched 22 Starlink satellites


The launch took place at 10:21 p.m. ET



🔻Scroll down to watch the launch🔻
---
Liftoff! pic.twitter.com/psxYy1zWo4

— SpaceX (@SpaceX) September 1, 2023
SpaceX's Falcon 9 rocket was originally set to launch the Starlink 6-13 mission at 7:52 p.m. ET from Space Launch Complex 40 at Cape Canaveral Space Force Station, but weather conditions have forced the California-based company to change it. The first change was for 8:40 p.m. ET, but SpaceX pushed it back to 9:31 p.m. ET and again later to 10:21 p.m.
SpaceX stated on X that its teams had been keeping an eye on the weather conditions as a result of Idalia.
Teams are keeping an eye on Hurricane Idalia's impact on weather conditions at the launch site ahead of tonight's @Starlink mission. Weather is currently 20% favorable, with conditions predicted to improve to ~35% favorable by the end of the window → https://t.co/bJFjLCiTbK

— SpaceX (@SpaceX) August 31, 2023
On Wednesday, the squadron issued a forecast for the Starlink 6-13 mission and also stated that Idalia may cause the launch to be iffy.
"(Due to activity caused by the storm), especially as Idalia merges with a frontal boundary across the southeastern U.S. and shoves it into the vicinity of the Spaceport late in the day. Though showers and storms will be possible at any point, more daytime heating will bring a maximum of activity in the late afternoon, with west-southwest flow focusing any ongoing activity towards the coast into the evening hours," the squadron stated.
The main concerns about the Thursday night launch, stated the 45th, were: Surface electric fields, cumulus cloud and anvil cloud rules.
Learn more about NASA's weather criteria for the Falcon 9 rocket here.
Idalia has given space companies a hard time with launches this week, as ULA postponed its SILENTBARKER mission that was scheduled for Tuesday. No new date has been issued.
Almost a national double launch
Thursday would have been a double launch day for SpaceX, as it was planning to launch the Space Development Agency's second Tranche 0 satellite, which is designed to track advanced missile threats from low-Earth orbit.
The launch is now set for Friday, Sept. 1, at 10:26 a.m. ET from Vandenberg Space Force Base in California.
In July of this year, it took three unintentional tries for SpaceX to have a double launch day, which happened in the Space Coast.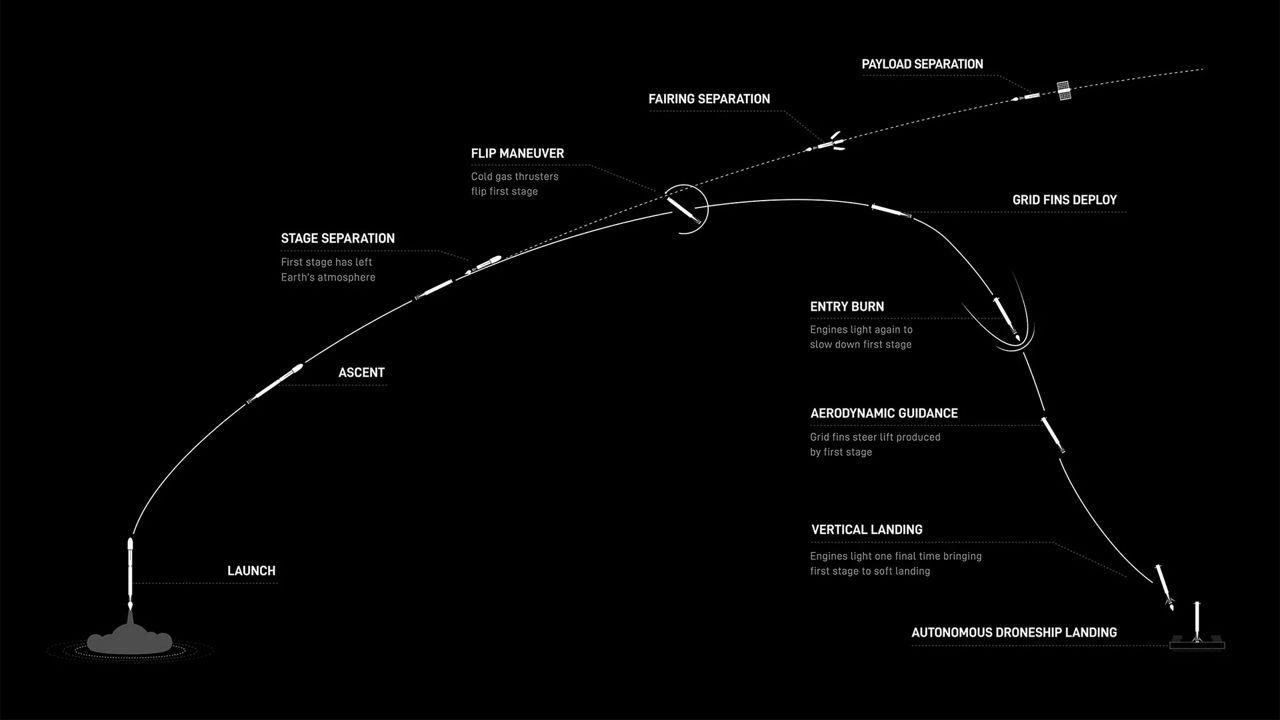 Going up
B1077, the first-stage booster of this Falcon 9 rocket, has been used for six missions, not counting this upcoming one for the Starlink 6-13 mission.
Falcon 9's first stage has landed on the A Shortfall of Gravitas droneship pic.twitter.com/CTIb44T49Z

— SpaceX (@SpaceX) September 1, 2023
After the first-stage separation, the rocket returned Earth on A Shortfall of Gravitas droneship in the Atlantic Ocean.
About the Mission
The Starlink Group 6-13 mission will send 22 Starlink satellites to low-Earth orbit, home to thousands of them.
SpaceX-owned company Starlink described that the purpose for the satellites is to provide internet services to many parts of the world.
Before the launch, astronomer Dr. Jonathan McDowell of Harvard-Smithsonian Center for Astrophysics recorded the current information on the Starlink satellites:
4,661 are in orbit
4,630 in working order
3,936 are in operational orbit
Watch the launch