Every ten years the 30-year climate averages we often refer to for temperatures and rainfall are updated.
This is one of those years and the National Oceanic and Atmospheric Administration or NOAA.
These replace the previous 30-year averages from 1981 to 2010.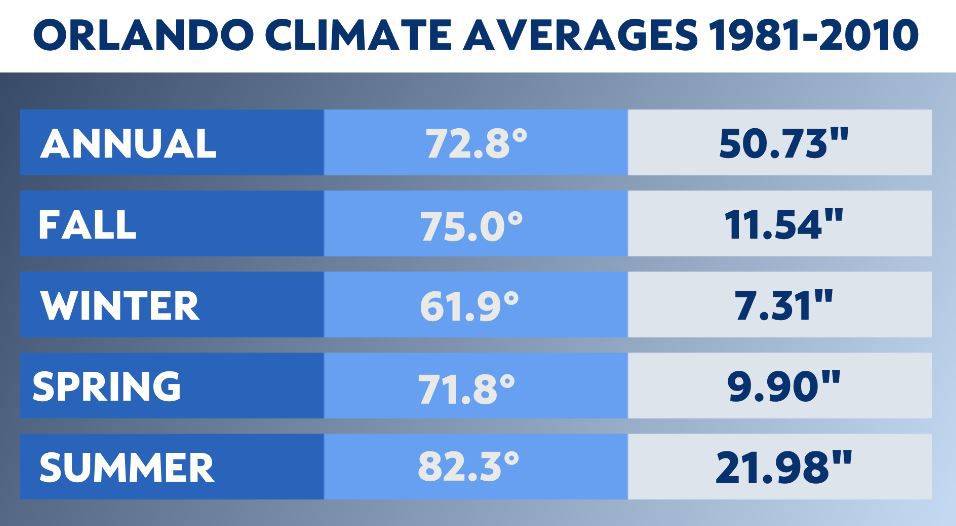 The weather experts here at Spectrum News 13 went through some of the numbers and found some of the biggest changes include the average annual rainfall.
Orlando's average yearly annual rainfall went up by 0.72 inches. It went from 50.73 inches on average per year to 51.45 inches per year.
The only season to see a drop in rainfall was winter, which should be no surprise considering that is the heart of the dry season for Central Florida.
Winter rainfall fell off by 0.31 inches and now averages 7 inches per year.
Meanwhile, fall, spring, and summer all saw the average rainfall increase for each season.
The biggest jump for Orlando was during the summer. From 1981 to 2010 the average annual summer rainfall was 21.98 inches.
The new 30-year average from 1991 to 2020 is now 23.30 inches. That is an increase of more than an inch.
Regarding temperatures, the average annual temperature for Orlando jumped two-tenths of a degree from 72.8 degrees to 73 degrees.
This does not seem like much, but in the big picture, it makes a difference.
Winter saw the biggest spike in its average annual temperature. It jumped from 61.9 degrees to 62.5 degrees.
Summer experience a tenth of a degree drop. This largely comes from a drop in the average summer low temperature.
It went from an average of 73.2 to 72.8 degrees