ORLANDO, Fla. — Brightline's long-anticipated high-speed rail route carrying passengers between Orlando and Miami made its debut Friday.
Brightline trains exited the Orlando International Airport train terminal today and headed south, making stops at stations in West Palm Beach, Boca Raton, Fort Lauderdale, Aventura before pulling into the downtown Miami station.
---
What You Need To Know
Brightline's long-anticipated high-speed rail route carrying passengers between Orlando and Miami makes its debut Friday


Brightline trains will exit the Orlando International Airport train terminal today and head south


MORE INFORMATION: Brightline ticket, routes, special offers
---
Brightline is the first private passenger rail line in the U.S. in 100 years.
The trip from Orlando to Miami takes about three and a half hours with trains reaching speeds of 125 miles per hour outside of urban areas.
The company is charging single riders $158 round-trip for business class and $298 for first-class, with families and groups able to buy four round-trip tickets for $398. Thirty-two trains will run daily.
Brightline's development has suffered setbacks, though. COVID-19 shut down the Miami-West Palm Beach line for 17 months.
A 2018 partnership with Richard Branson's Virgin Group to rebrand Brightline as Virgin Trains USA quickly soured.
And after a delay from the original debut date of Sept. 1, the trains are finally up and running.
Officials said most of Brightline's Miami-Orlando passengers will come from those who drive the route regularly and others who stay home because they hate the drive.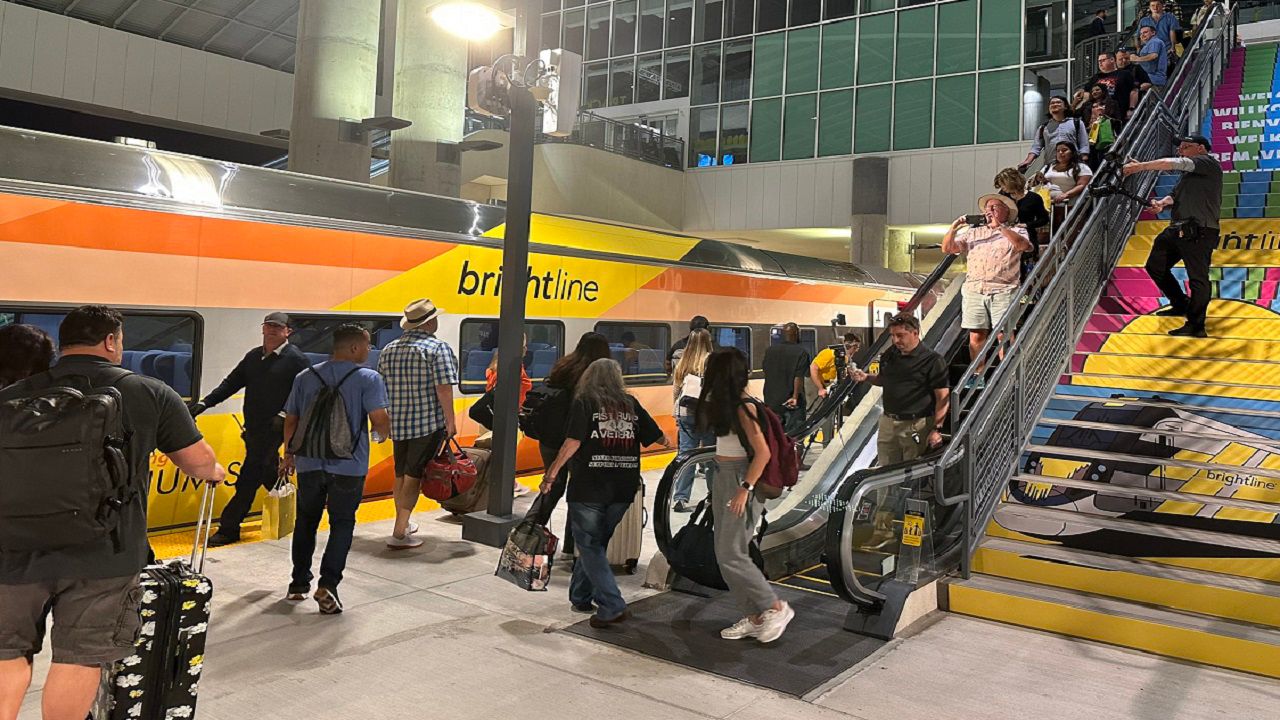 Brightline passengers arriving at the Orlando station to board the train heading to Miami. (Spectrum News/Massiel Leyva)
Prime targets are families headed to Orlando's theme parks and travelers to South Florida's nightlife, concerts, sports and cruises.
The drive between Miami and Orlando takes about four hours each way on Florida's Turnpike with round-trip tolls costing between $40 and $60. Gas costs between $50 and $80, plus wear and tear on the vehicle.
Eventually, the company plans for possible extensions to Tampa.
The first train from Orlando departed to Miami just after 6:30 a.m.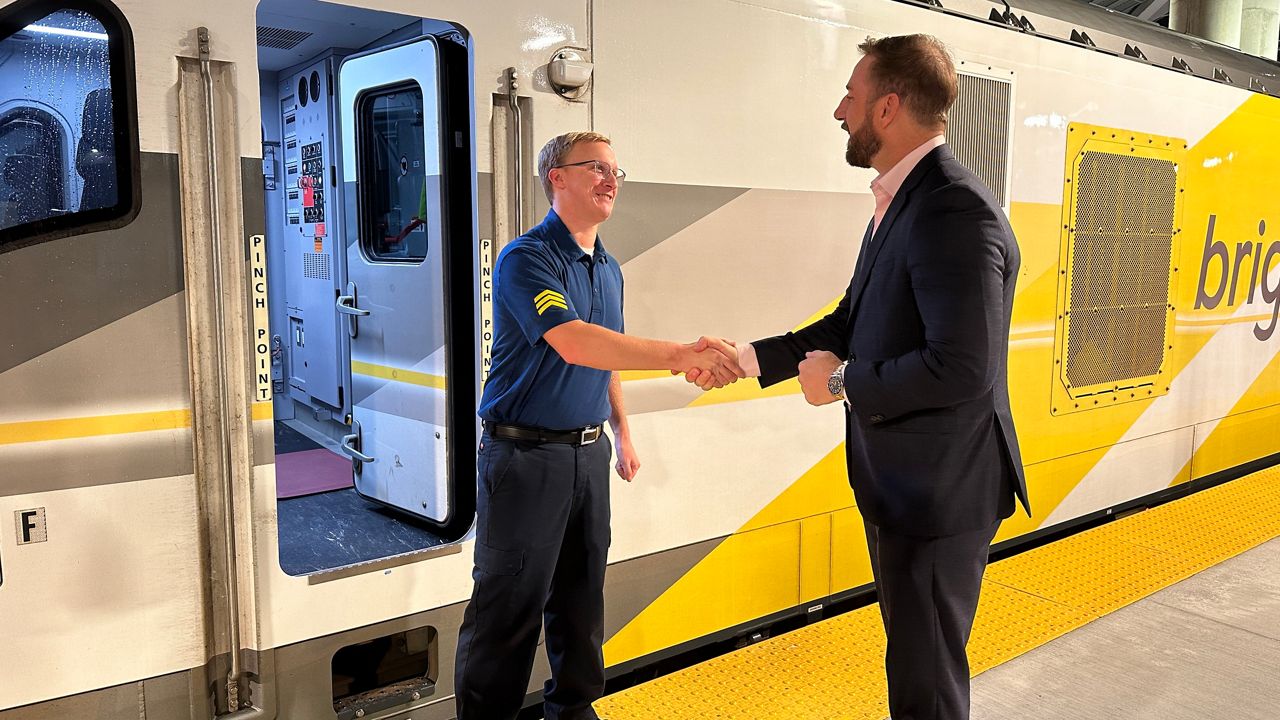 Train conductor and engineer shake hands before leaving the station. (Spectrum News/Massiel Leyva)
'The Convenience Factor'
One passenger on the Brightline train from Orlando to Miami Friday flew in from Boston for the big debut.
"I'm really into trains and transit. So I actually flew here from Boston last night to come and ride this, because this is a big event," Miles Taylor said.
Miles said he's always been into trying different means of transportation.
"I've been interested in trains since I was a little kid — in transit in general. So this is very exciting. I hope that we see more like this, just more new trains. We need more trains in this country," he said.
The Brightline trip takes about 30 minutes less than by car, but it can get more expensive depending on how many people go — so why would people choose to travel this way?
"I think in general for the experience you get. You've got a lot more time to work on Brightline. So let's say you're spending the day at work. You have these big tray tables, you put your laptop on. The wifi has been very speedy," he said.
Miles likes the convenience factor and the competitive price starting at $79, which beats some of the airline ticket prices.
"I think that Brightline is the best mix of price, comfort and speed of any of the ways to get between Miami and Orlando," he said.
He also likes the ability to work while onboard the train with high-speed wifi available for free, and plenty of leg room.
"Whereas with driving, you know, you have to focus on the road. You can't relax like you were on a plane or train. But then Brightline beats most flights in terms of price. I think it's for the you know, it's a $79 ticket on Brightline versus flights. Most of the ones I saw were over that."
Other passengers also liked that it is fast, and they can lay back and relax without having to drive, pay for gas and tolls. And as a bonus, passengers can bring their dog with them on the train.
For Miles, he said it's definitely worth it and will be riding again.
"Absolutely. Try this out. It's decently cheap for what you're getting. It's a quick, pretty quick trip. And with any luck, it'll make you like trains more, because we need more trains. And this is a very good train," he said.
Enjoy the Ride!
Spectrum News 13 takes you on the first Brightline train ride from Orlando to Miami and Miami to Orlando. Take a look at our team coverage.
Information from the Associated Press was used in this report.