It was another year in recent memory that finished as one of the top 10 warmest on record for Central Florida, following in the footsteps of 2020.
The average temperature for 2021 was in the low to middle-70s for all five of the main observation sites in the area.
The warmest city was Orlando, with an average temperature of 74.7 degrees. 2020 finished as the second-warmest for the City Beautiful, with an average temperature of 75.4 degrees.
2019 and 2015 are also in the top five warmest on record for Orlando. Both of these years had an average temperature around 75 degrees, too.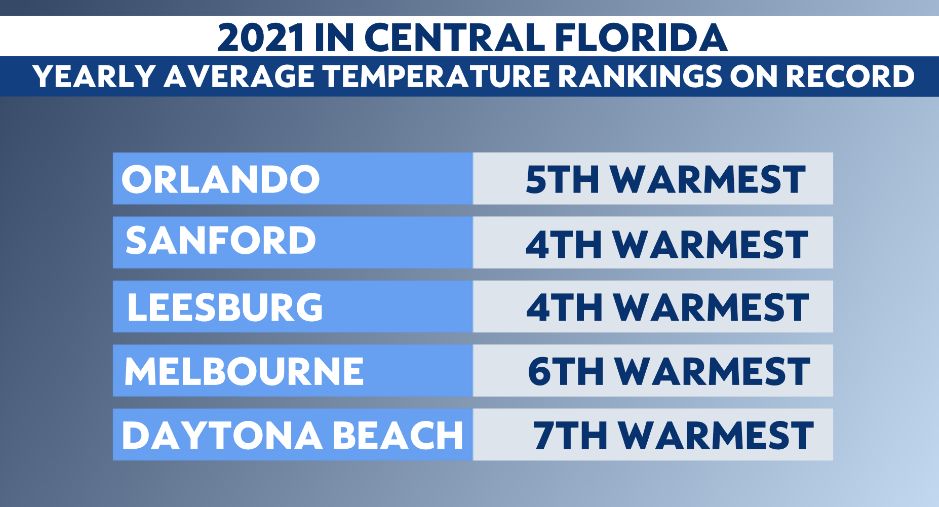 Rain was hit-or-miss, which is classic Florida fashion due to the sporadic nature of our summertime thunderstorms.
Orlando, Daytona Beach and Melbourne all finished drier than average.
Melbourne experienced the largest rainfall deficit of them all. The city of Melbourne only measured 40 inches of rain for 2021, which is more than 10 inches below normal.
Leesburg managed to finish with the largest surplus. The city picked up more than 50 inches of rain, which is more than six inches wetter than average.
Sanford finished with a four-inch surplus of rainfall.