Now that the 2022 Atlantic hurricane season has wrapped up, we can look back at the season and see how it stacks up to the forecast and seasons prior.
NOAA and Colorado State both had above-average activity in the forecast this year, although by most metrics, it turned out to be near average.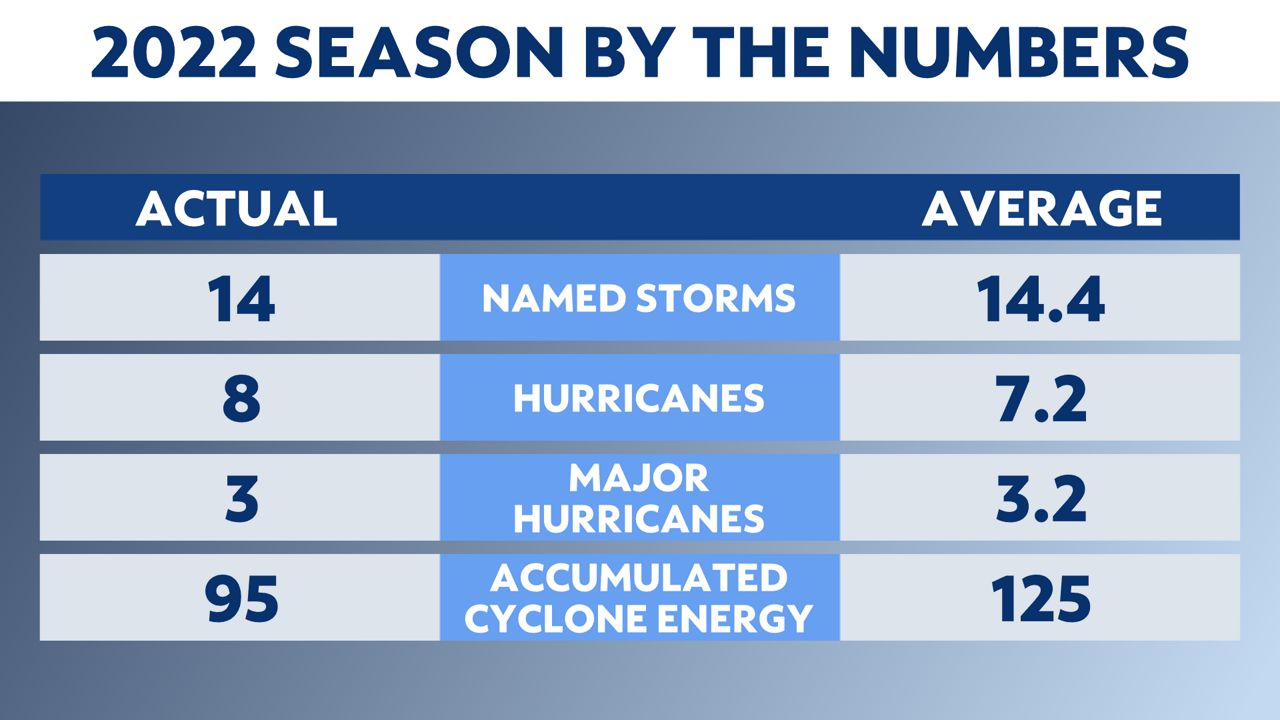 Accumulated cyclone energy (ACE) is a measure used to express the activity of individual tropical cyclones and entire tropical cyclone seasons. You can learn more about it here.
Here are the names that were used in 2022. This list, excluding any names that get retired, will be re-used in 2028.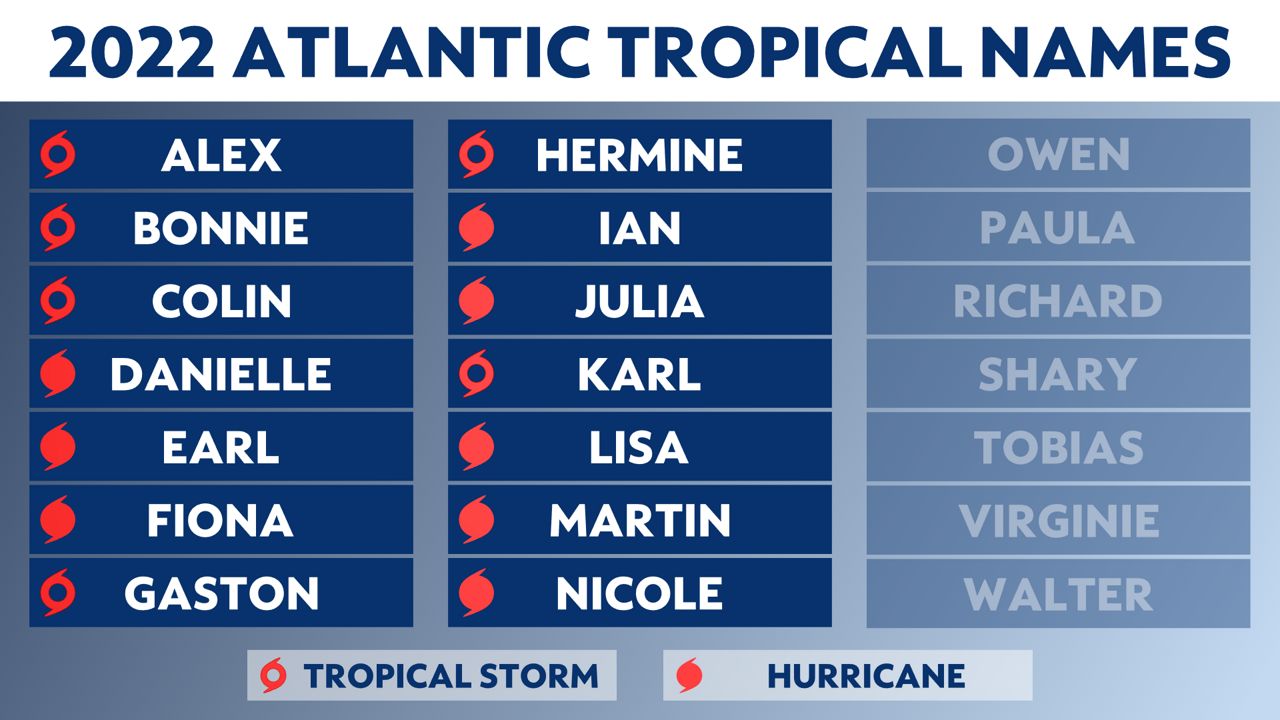 2022 was the first year since 2015 that no named storms formed before the beginning of Atlantic hurricane season, which is June 1. It is also the first time since 2015 that activity was not above normal or extremely active.
It was near-average for landfalls in the continental U.S. this year with three tropical storms (Colin, Ian and Nicole) and two hurricanes (Ian and Nicole) making landfall. The 30-year average number of continental U.S. landfalls is 3.2 tropical storms and 1.6 hurricanes per year.
Hurricane Ian was the most significant storm this year, making landfall as a strong Category 4 hurricane in southwest Florida. The 30-year average of landfalling major hurricanes is 0.5.
Alex formed from the remnants of Agatha, which crossed over southern Mexico from the eastern Pacific and made its way into the Gulf.
But before the storm was Alex, it was Potential Tropical Cyclone One. The system brought flooding rains to parts of South Florida from June 3-4. Heavy downpours from the storm caused flash flooding in Miami, with several other areas getting more than a foot of rain.
The disturbance strengthened and organized upon moving off the Florida coast late on June 4 and became the first named storm of the season early on June 5. It continued heading northeast, moving away from the U.S. and dissipating in the northern Atlantic.
The storm also brought flooding rains to Cuba. Three people died there, according to the Associated Press. Prior to becoming an Atlantic system, the remnants of Hurricane Agatha killed at least nine people in Mexico as the storm crossed over from the Pacific into the Gulf of Mexico.
In late June, a tropical wave came off the coast of Africa and eventually became Potential Tropical Cyclone Two east of the Windward Islands on June 27. It quickly moved across the southern Caribbean Sea, but was not organized enough to be considered a tropical storm. Even so, the system caused gusty winds and heavy rain in northern South America and the ABC Islands.
Finally, on July 1, it earned the name Bonnie while in the southwestern Caribbean Sea. That same night, Bonnie made landfall near the border of Costa Rica and Nicaragua in Central America. It produced heavy rain as it moved over land.
The morning of July 2, Bonnie's center moved into the Pacific Ocean, making it the first "crossover storm" since Otto in 2016. It eventually became a hurricane in the open waters of the Pacific.
Colin was a short-lived tropical storm that officially formed near the South Carolina coast the morning of July 2. Before becoming Colin, the disturbance caused gusty winds near Charleston, S.C. the day before.
While Colin's center hugged the coast of the Carolinas, most of the effects of the weak storm were offshore. However, it did cause rip currents along the coast.
Colin dissipated over North Carolina early July 3 as a cold front approached the region.
Danielle popped up quickly in the north-central Atlantic, forming into a tropical storm on Sept. 1. It then strengthened into a hurricane the next day, making it the first hurricane of the season, and remained a hurricane until the early morning of Sept. 8.
Fortunately, Danielle stayed over open water during its duration.
It finally started to weaken on Sept. 8 as it became post-tropical, swirling in the Atlantic before moving east toward Europe.
Earl pushed off the west coast of Africa as a tropical wave in late August and became the fifth named storm of 2022 in the central Atlantic on Sept. 2. It then became the second hurricane of the season on Sept. 6.
Earl brushed the island of Bermuda as a hurricane, bringing gusty winds and heavy rain as its center passed east of the island. Not only did Earl produce strong winds in Bermuda, but it brought large swells up and down the U.S. East Coast.
After moving north of Bermuda, Earl weakened and turned extratropical south of Newfoundland on Sept. 10.
Fiona became the sixth named storm in the Atlantic on Sept. 14.

As it continued west, Fiona strengthened into the third hurricane of the season early on Sept. 18. It then made landfall near Punta Tocon in Puerto Rico that same day. Fiona made landfall a second time along the eastern coast of the Dominican Republic early on Sept 19.
Heavy rain led to flash flooding, mudslides and landslides in Puerto Rico and Hispaniola. Puerto Rico saw 15-20 inches of rain, leading to devastating flooding and power outages across the entire island.
Fiona continued northwest toward Turks and Caicos before turning north and strengthening into a Category 4 hurricane, brushing Bermuda on Sept. 22 and bringing hurricane conditions to the island.
It continued north, dissipating into a post-tropical cyclone late on Sept. 23. Even though it was post-tropical, it continued to bring strong winds, heavy rain and rough seas to Maine and Atlantic Canada through that weekend.
Gaston formed and became a tropical storm in the central subtropical Atlantic on Sept 20. It continued northeast, staying over open ocean until it brushed the Azores on Sept. 23, bringing tropical storm conditions to the islands.
The area saw mostly heavy rain.
It then took a turn back toward the southwest, and turned post-tropical on Sunday, Sept. 25 and dissipated shortly thereafter.
Hermine was a short-lived tropical storm, forming off the west coast of Africa on Sept. 23.
Hermine slowly drifted north, before strong southwesterly wind shear dissipated the storm just two days after forming, on Sept. 25.
While Hermine was short-lived and away from land, it still brought some heavy rainfall across the Canary Islands before turning post-tropical.
Ian became the first hurricane of the season to hit the U.S., devastating communities in Florida.
Forming in the Caribbean Sea, Ian made its first landfall in western Cuba on Sept. 27 as a Category 3 hurricane.
It then traveled northeast, strengthening even more in the Gulf, before making its second landfall on Cayo Costa, Fla. as a strong Category 4 hurricane on Sept. 28, only 2 mph from being a Category 5. Shortly after, it made a second landfall near Punta Gorda, Fla.

Storm surge from 12 to 18 feet ravaged the Florida coast, and winds over 130 mph did significant damage. Ian destroyed many buildings, and around 2000 people needed rescuing.
Ian then traveled northeast across Central Florida, weakening but bringing torrential rain and flooding before moving off into the Atlantic.
It then strengthened back into a Category 1 hurricane and made its fourth landfall near Georgetown, S.C. on Sept. 30. Storm surge and strong winds damaged piers along South Carolina's beaches. Heavy rain and winds led to flooding across the Carolinas and left millions without power.
The remnants of Ian brought heavy rain to the Northeast before finally moving out to sea.
The precursor to Julia was a tropical wave that brought areas of rain and gusty winds to Windward Islands on Oct. 4. It became organized enough to become Potential Tropical Cyclone Thirteen on Oct. 6, becoming a tropical depression later that day. It strengthened into a tropical storm on Oct. 7.
Julia clipped South America and the ABC Islands as it tracked west. As it approached Central America, Julia became a hurricane on the evening of Oct. 8.
The following morning, Julia made landfall in Nicaragua with top estimated winds of 85 mph. It weakened to a tropical storm as it crossed into the Pacific, just like Bonnie did earlier in the season.
Torrential rain led to flooding and landslides in Central America and far southern Mexico.
Karl became the 11th named storm of the 2022 Atlantic hurricane season on Tuesday, Oct. 11, forming into a tropical storm in the Bay of Campeche.
The storm was short-lived. Karl slowly drifted toward southern Mexico before it fell apart on Saturday, Oct. 15.
Karl brought heavy rain to southern Mexico and dissipated over the Bay of Campeche.
Lisa first formed in the Caribbean Sea on Oct. 31, moving west and slowly strengthening.
Only two days later, Lisa became a Category 1 hurricane on the afternoon of Nov. 2. It made landfall in Belize not long after and was then downgraded to a tropical storm late on Nov. 2. It further weakened over land on the following day.
Lisa then moved into the southwestern Gulf, where it fell apart over Central America.
Lisa brought heavy rain over Central America, causing flash flooding in some areas.

Martin formed in the Central Atlantic, northeast of Bermuda, on Nov. 1.
The storm strengthened into a hurricane on Nov. 2 as it headed east, becoming the seventh hurricane of the Atlantic season.

The next day, it became a large post-tropical system. It gradually weakened, but remained very large.
Martin did not have any direct impacts to land, although it created large swells.
Even though the Atlantic hurricane season ends at the end of November, a late-season hurricane or tropical storm isn't out of the question. That was the case this year.
Nicole became the 14th named storm of the season on Nov. 7. Originally starting off as a subtropical storm in the southwestern Atlantic, Nicole transitioned into a tropical storm just a day later as it moved west toward the northwestern Bahamas and the coast of Florida.
Nicole made its first landfall over Great Abaco Island in the Bahamas on Nov. 9, producing maximum sustained wind speeds of 70 mph.
While it struggled to reach hurricane status, Nicole eventually became the eighth hurricane of the season later that day prior to making its second landfall over Grand Bahama Island.
Maintaining its strength, Nicole continued to head west, where it made its third landfall over North Hutchinson Island, Fla. early on the morning of Nov. 10.
Nicole became the second hurricane of the season to make landfall in Florida, and was also the second-latest on record to make landfall in the U.S.
Given its large size, it brought prolonged impacts to the northwestern Bahamas and the Florida peninsula, especially along the east coast beaches.
Along with strong winds and heavy rainfall, other issues included power outages, storm surge, coastal flooding and significant beach erosion.
Nicole continued to weaken as it moved toward the northeast, but it still brought gusty winds and soaking rain up through the eastern U.S. into the second weekend of November.
Even though hurricane season is over, you should never completely let your guard down. It's uncommon, but there have been impactful storms outside of hurricane season.
2022 proves that even during near-average or below-average seasons, it only takes one storm to make it a bad season.
Our team of meteorologists dives deep into the science of weather and breaks down timely weather data and information. To view more weather and climate stories, check out our weather blogs section.