WINTER GARDEN, Fla. — You slide into Earl Brigham's barber chair, and he wraps you in a hair-cutting gown and gently pats you on the shoulder.
---
What You Need To Know
Earl Brigham, who became deaf as a toddler, has cut hair for 55 years


He taught all 7 of his children sign language; they're now teaching their kids


Brigham also leads a ministry that serves the deaf at West Orlando Baptist
---
You see that he's wearing a University of Florida mask, and you ask if he's a Gators fan.
He looks at his daughter, who's seated in front of you. She makes rapid movements with her hands and fingers, to which he gestures in "rah, rah" fashion and laughs, bending over.
Then he turns on his clippers and gets to work.
That's Earl Brigham, 75 — Winter Garden's longtime barber, who lost his ability to hear at around age 2. He's also a jokester, pastor, husband, father of seven, grandfather of 15, servant to the deaf, and the deaf community's ambassador to the hearing.
He's all that as he smiles or inspires a laugh.
"He's the finest man I know," says his wife, Robin Brigham. "And I know him from inside out. … The truth is, I don't know that he has a bad day."
"I just have a joy," Brigham says through interpreter and daughter Rachel Sivells. "I enjoy life."
Brigham has cut hair in Winter Garden for 45 years, including since around 2005 at the shop that bears his name on Plant Street in the city's tourism-heavy historic district.
He boasts three generations of heads that he has whipped into shape — now working on, as he puts it, the children of his original customers' children.
Earl Brigham's Barber Shop
Earl Brigham's Barber Shop, now owned by Michael and Scarlett Lanza, features chairs for Brigham and long-time fellow barber Lancer Giroux, with an empty chair in between because of COVID-19 restrictions. It includes mirrors everywhere, a grandfather clock, a photo of John Wayne, and photos of Brigham, including one with his wife and children.
The shop also includes a toy basketball hoop where Brigham, a former multi-sport athlete, continues to work on his shot from his chair. He used to do that with a trash can before a customer bought him the upgrade.
"If I miss," Brigham says through his daughter, "I keep doing it until I get it in."
Customers tend to stroll in and keep coming back, as Stephen Pyles says he did about three years ago. Pyles says he likes Brigham's barbering and banter. "Very funny guy," he says.
After Pyles sat down, Brigham wrapped a gown around him and feigned a choking motion on his customer, prompting a smile from Pyles and a laugh and a pat on the shoulder from Brigham.
"He is very much a jokester," Sivells says.
Brigham used to rely on note-writing to communicate with his customers, but not so much anymore, especially since most of his customers know him. He talks to you with his eyes and hands and heart. If he removed his mask, you know you'd see a smile as big as Orange County.
And he's a jokester, all right. When he finishes your cut, he doesn't show you the glass side of his hand-held mirror so that you can see yourself. He shows you the back of the mirror, which features a Brad Pitt-looking type with lots of hair and a stylish haircut.
Brigham laughs and turns around the mirror so that you can see yourself for who you really are.
Communicating With a Customer
When I first walked into his shop a few months ago, Brigham through hand gestures immediately made it clear that he couldn't hear. He sat me down in his chair, and I waved a hand in circles around my head to illustrate that I wanted a buzz cut.
"No. 2 guard," I said, holding up two fingers.
He nodded, grabbed his clippers, and pointed to the "2" on his clipper guard. I said yes and nodded. He nodded and patted me on the shoulder.
"He wants more than anything for there to be understanding both ways," says Robin Brigham, his wife. "So he'll do whatever it takes — charades, writing notes, whatever it takes so that you can understand him and he can understand you."
He'll do so almost aggressively. People who know him say that between cuts, he stands outside the barbershop on busy Plant Street and looks for human connections.
Eye contact evolves into gestures of hello. Hello evolves into gestures of, "How are you?" "How are you" evolves into another mutual understanding.
"He's an extremely bold man," says Kenric Barnett, senior pastor of West Orlando Baptist Church, where Brigham leads a ministry that serves the deaf.
Brigham's children, now all adults, share stories of his boldness. Years ago, when Bo Outlaw played for the Orlando Magic, Brigham and his family were having dinner in an Olive Garden restaurant, as Sivells tells it.
Brigham spotted Outlaw in the restaurant and told everybody he was going to go over to say hi. Rachel and others begged him not to, saying he'd embarrass them, and they declined their father's request for somebody to join him and translate.
"Well, he did it all by himself," says Sivells, 37. "He walked over to Bo Outlaw's table, said hello, shook his hand, gestured — you know, 'basketball, good job, keep doing it' — and we all wanted to slide under the table. But that's my dad. He is not afraid: 'If I see someone, I'm going to go talk.'"
Seven Bilingual Children
He never hesitated when it came to talking to his children. His wife tells of the times he'd get home from his barbershop, put a baby on his knee, and speak in sign language. The couple thereby raised all of their children bilingually.
Their seven children — two women and five men ages 28 to 44 — are fluent in English and American Sign Language, and they're teaching their own children ASL so that they can speak to Granddad.
The ability to sign has come in handy for all seven Brigham children. All have used it professionally, including when an organization needs an interpreter, and daughter Mandy David launched a company that focuses on communication for the deaf.
Like their father, they also use sign language as a vehicle for connections and kindness.
"He taught us all how to care," Sivells says. "We grew up knowing our dad doesn't just cut hair. He cares about what's going on in the lives of his customers, and that in turn has been an example for us to care about people."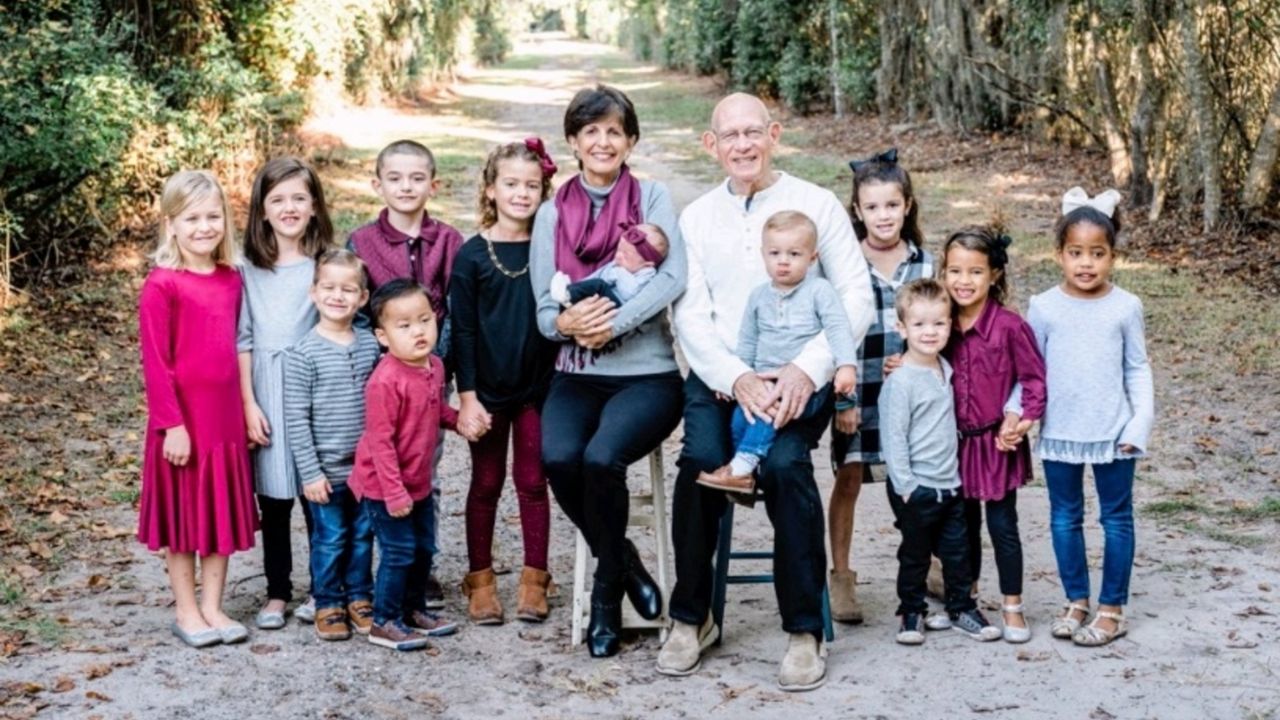 Earl and Robin Brigham with 12 of their 15 grandchildren (Courtesy of Robin Brigham).
Brigham's wife tells of a time that son Jake Brigham, a professional baseball player in Taiwan who once pitched for the Atlanta Braves, observed somebody using sign language during the national anthem at a minor league baseball game.
When the song ended, the player asked the interpreter to whom he was communicating in sign language. It was group of youth league players, and Jake Brigham approached the boys and started signing himself — to the delight of the boys and the surprise of Jake's teammates.
"His whole team, he said, sat there with their mouths hanging open," Robin Brigham says. "They didn't know that he had a deaf dad."
Discovery of His Deafness
Earl Brigham was born in Panama in 1945, the son of a Dominican mother and an American father who served in the Army.
Family members say that when he was about 2, his mother called him, and he didn't respond. Her parents took him to doctors, who detected nerve damage but couldn't establish how it happened.
His parents heard about St. Augustine's Florida School for the Deaf and the Blind and moved to Florida. Brigham started school there at around age 10. He didn't know any language, or even his name, Sivells says.
Having never learned to form words, Brigham makes sounds at home that his children understand, Sivells says, and he remembers the Spanish word agua.
At his barbershop, you might hear an occasional sound that resembles a grunt. You'll certainly hear a laugh that sounds different but inspires you to laugh with him.
At the Florida School, Brigham excelled in sports, people, and you might say philosophy. He grew up Catholic and once aspired to become a priest.
He graduated in 1966, and he said the school guided students into certain professions, including barbering. He immediately entered barber school and after a few months applied for a job at a shop in the Orange County community of Pine Hills.
"The owner wasn't sure because I was so young and I was deaf," Brigham says. "I was like, 'I can write notes' … He didn't want to give me a chance, and I was like, 'Please, just let me try."
Brigham got a 90-day trial, then a permanent job there and the beginning of a career that has reached 55 years.
He endured years of ups, downs, struggles, and doubts before he got a job at a Winter Garden barbershop in 1976 and ultimately bought that business. He moved into the current Plant Street location 16 years ago.
Michael and Scarlett Lanza, a cosmetologist, bought the business from Brigham in 2017 but keeps his name on the window in tribute.
"He is a gem in this town," Scarlett Lanza told Spectrum News 13 on Facebook Messenger. "Sort of like everyone's grandpa."
"Gift That God Has Given Him"
To many, he's a spiritual guide. He has been a pastor for the deaf for more than 30 years, including the last 12 at West Orlando Baptist.
A video on the church's website shows him ministering in sign language. He preaches the same way he cuts hair: lively, confidently and with a sense of humor.
Barnett, the church's pastor, says Brigham goes out of his way to welcome new visitors — hearing and deaf alike — into the church.
"He is so concerned that they feel welcome," Barnett says. "He's so concerned that that they find where they need to go. He'll act out. He'll do whatever he has to do to communicate with them.
"I joke with him that if I ever play the game of charades, I want him on my team."
Brigham's wife said her husband believes that God wanted him to be deaf so that he could minister to the deaf.
As for barbering, "It's a gift that God has given him," Sivells says. "He's very proud of his 'flat top' — he's proud of the way that he does haircuts, and he's not going to let the communication barrier" stop him.
My first hair cut with Brigham inspired me to write about him, and Sivells agreed to meet me at the barbershop last week to translate an interview with him.
Brigham's connection to his daughter came through.
"A lot of people at first didn't know I was deaf," she says, interpreting her father. "They would just sit in the chair and chat. I would stop them and say, 'I can't hear you.' People would say, 'I'm sorry,' and I'd say, 'No, don't be sorry. I'm happy. It's OK that I'm deaf.'"