Ian brought death and destruction to Southwest Florida and inland nearly one year ago. It was the costliest storm in Florida's history.
Ian started as a tropical wave that moved off the coast of Africa on Sept. 14, 2022, but it didn't develop into a tropical depression until it was in the Caribbean on Sept. 23.
By the next day, it was a weak tropical storm. Ian rapidly intensified as it moved northwest in the Caribbean and reached hurricane status on Sept. 25.
It made its first landfall in Cuba on Sept. 27 at 4:30 a.m. as a Category 3 storm with winds of 125 mph.
Ian weakened a little after moving over the western tip of Cuba, and it later intensified as it moved through the Gulf, briefly reaching Category 5 strength offshore of Southwest Florida on Sept. 28.
Later that day, it weakened slightly to a Category 4 storm as it made landfall on Cayo Costa at 3:05 p.m. It made a second landfall in Florida south of Punta Gorda at 4:35 p.m.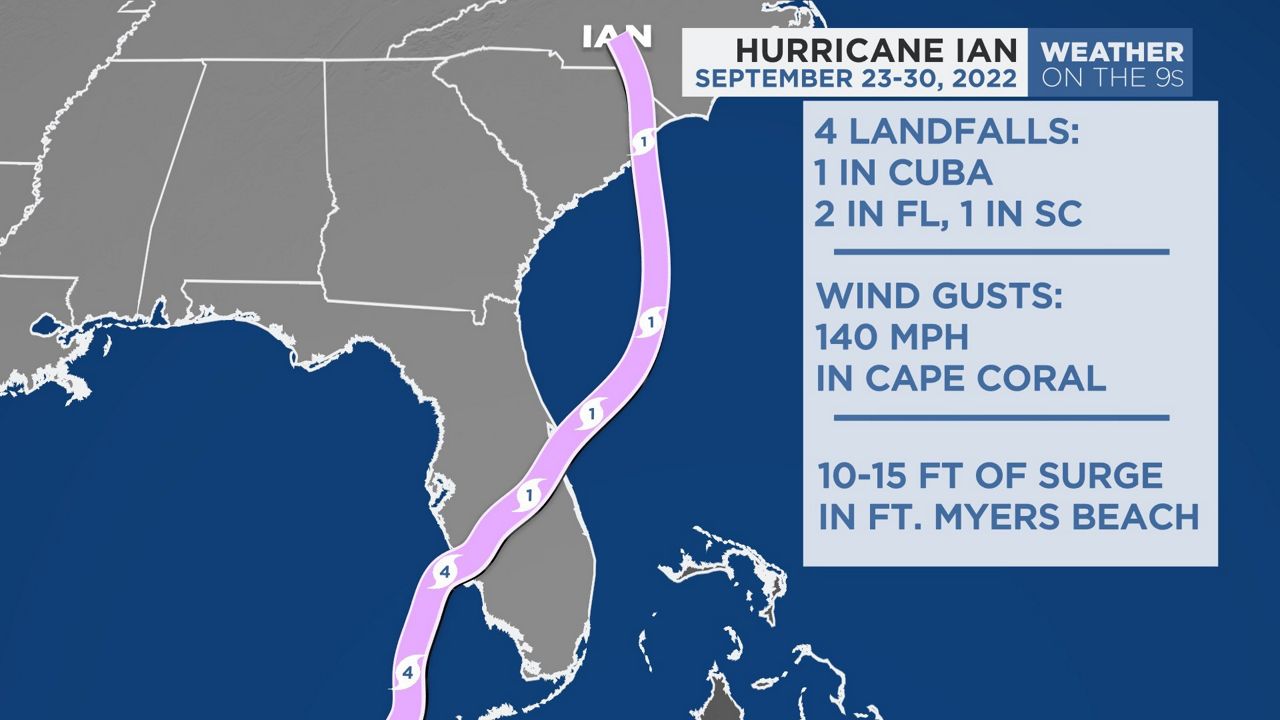 Ian continued to weaken as it moved over Florida, bringing heavy rain and wind inland.
Ian weakened to a tropical storm by the time it was moving off the east coast of the state.
It was able to re-intensify into a Category 1 hurricane before making a final landfall in Georgetown, S.C., at 2:05 p.m. on Sept. 30.
Ian dissipated over North Carolina by the next morning.
Storm surge and inland flooding were the biggest impacts Ian brought to Florida.
10 to 15 feet of storm surge was reported in Fort Myers Beach, and our very own Chief Meteorologist Mike Clay measured 12 feet of surge on his post storm trip.
Storm surge destroyed many older and manufactured homes, but newer, well-built homes remained standing.
Ian destroyed 5,369 structures in Lee County and an additional 14,245 structures saw major damage.
Water levels dropped significantly in Tampa Bay with a strong offshore wind. The East Bay gauge reported water levels to be 7.13 feet below the mean sea level.
Water was 5 to 7 feet below mean sea level at its lowest point across much of Tampa Bay.
Even Cedar Key water levels dropped to 5.63 feet below mean sea level.
Rainfall was heaviest north of the eye, with parts of Charlotte County seeing over 2 feet of rain.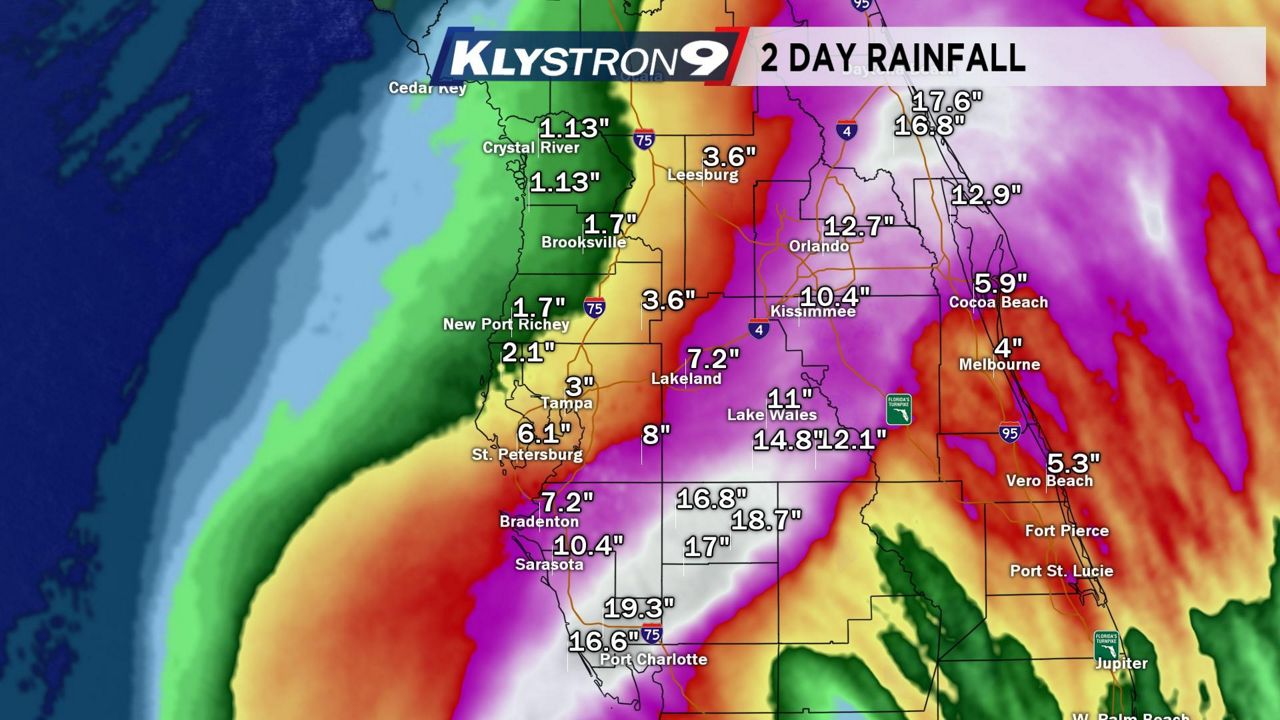 The highest recorded total was 26.95 inches in Grove City. The Peace River reached record flood stage at Zolfo Springs on Sept. 29, with a level of 27.2 feet, with the previous record set back in 1933.
The Myakka River also saw record flooding, and this resulted in the closure of I-75 as the river crested at 12.8 feet at midnight on Oct. 1.
Ian's winds were weakening as it moved into Florida with an estimated 150 mph sustained wind at landfall in the strongest part of the eye.
However, land observations for wind were not nearly as impressive. The highest wind gust was recorded at Cape Coral Yacht Club at 140 mph.
Wind gusts peaked at 135 mph in Punta Gorda, with sustained winds of 87 mph.
Here's a list of other notable maximum gusts:
Fort Myers (SWFL International): 110 mph
Grove City: 110 mph
Tarpon Point: 109 mph
St. Petersburg (Albert Whitted Airport): 77 mph
Tampa International: 75 mph
Our team of meteorologists dives deep into the science of weather and breaks down timely weather data and information. To view more weather and climate stories, check out our weather blogs section.