According to an exclusive Spectrum News/Siena College poll, Republicans were in favor of transporting immigrants by plane to Martha's Vineyard 87% to 8%, while Democrats were against it 79% to 10%.
Interestingly, for NPA or independent voters, the spread was a lot less, only six points in favor.
---
What You Need To Know
Florida voters were polled on hot-button issues


They were also polled about the "Stop WOKE Act"


---
The topic has certainly become the latest hot-button issue for Florida. Dr. Don Levy from the Siena College Research Institute commented about these firestorm issues, like immigration and the transportation of migrants to Martha's Vineyard, or even the overturning of Roe v Wade and all the new abortion laws. Are they playing a major part in decision-making on the part of the voter?
"These issues are important," said Levy, director of the Siena College Research Institute. "They will make the difference for some voters, but they're a relatively small group of voters that you would call persuadable or swing voters here in the state of Florida, and these issues come into play."
It was one of the most controversial bills to come out of the Legislature this year — House Bill 1557/Parental Rights in Education, better known by critics as the "Don't Say Gay" bill. That bill was signed into law by Gov. Ron DeSantis, and also triggered a culture war between Tallahassee and Disney, which came out against the bill. According to our exclusive Spectrum News/Siena College poll, it's a divisive issue among Florida voters.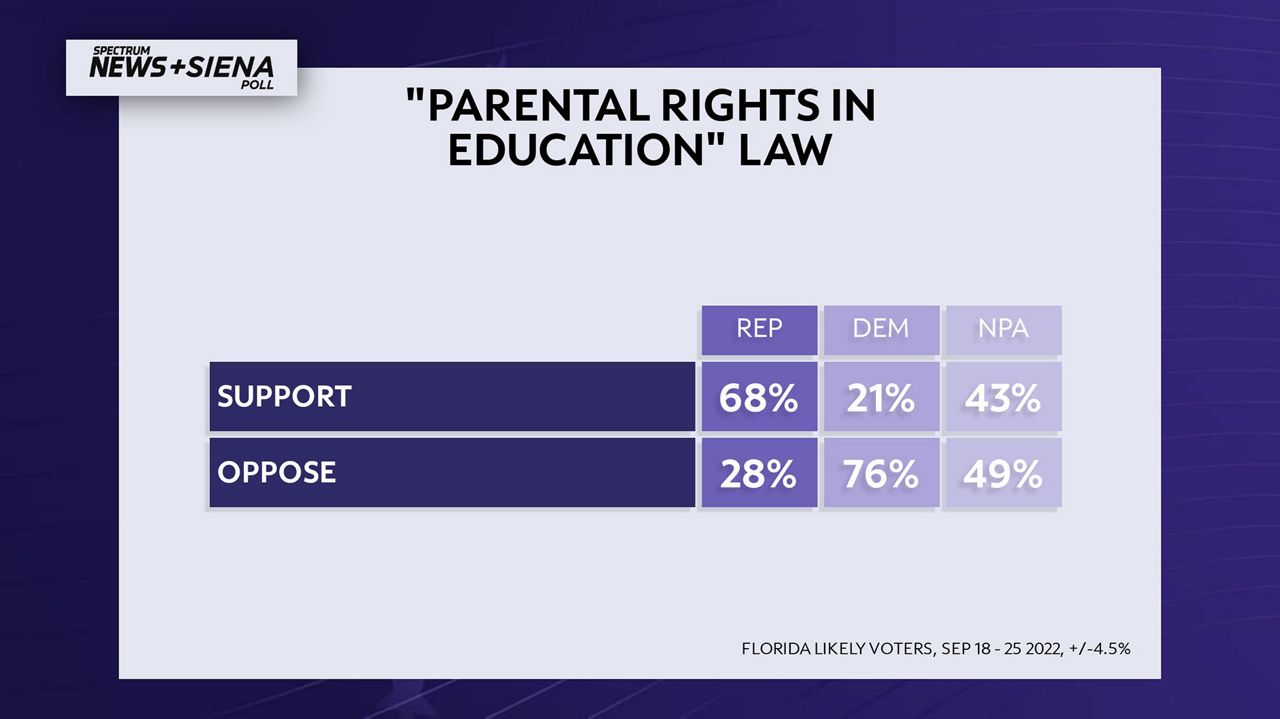 According to the poll, 68% of Republicans support the law, while 76% of Democrats opposed it. The all-important NPA voting block is more closely split, 49 to 43 opposing the measure.
The other controversial education bill passed this year was "Individual Freedom," also known as the Stop WOKE Act, which would prevent the teaching of Critical Race Theory in classrooms. Republicans were on board with it 48% to 38%, but Democrats were against it with a wider margin, 68% to 18%. NPA voters were also in opposition to the act, 49% to 33%.
Also, the poll showed DeSantis, a Republican, has a 49% to 41% edge in retaining his job as Florida's governor over his Democratic challenger Charlie Crist.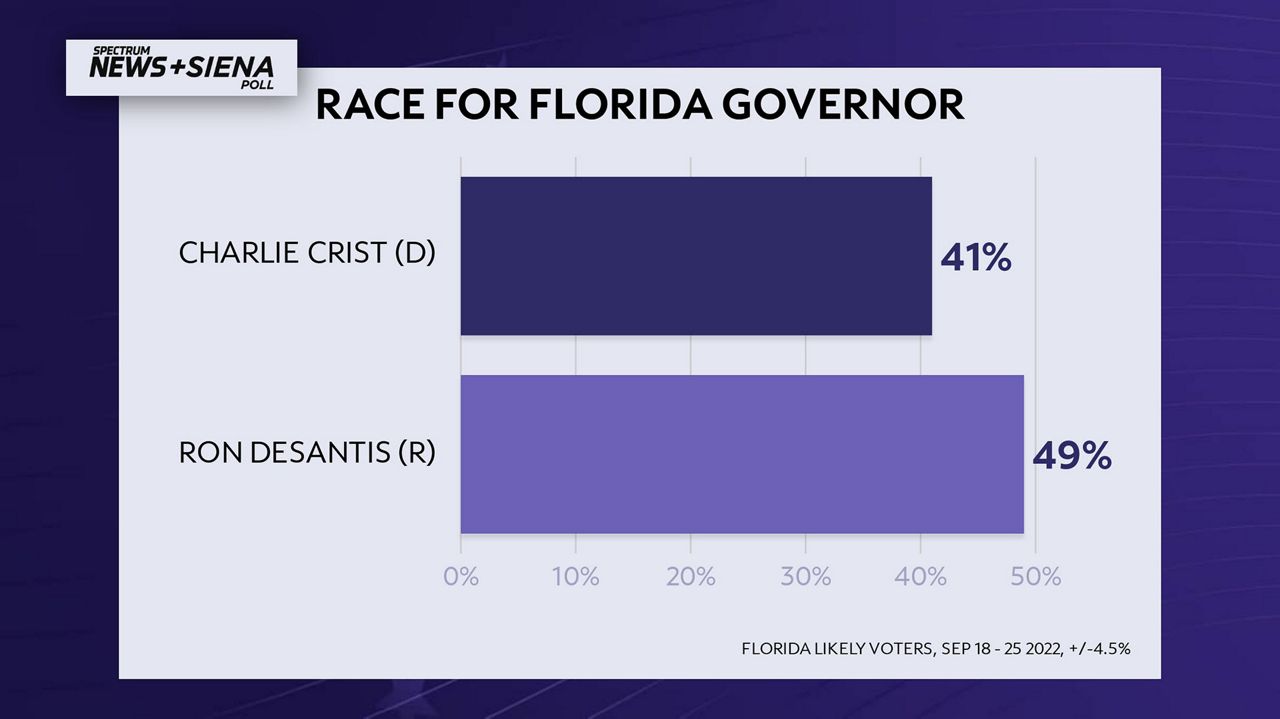 This Spectrum News/Siena College survey was conducted September 18-25, 2022, by telephone calls in English to 669 likely Florida voters. Telephone sampling was conducted via a weighted stratified dual frame sample of landline and cell phone drawn from the L-2 database of registered voters. Data was statistically adjusted by age, race/ethnicity, education, political party, regional vote pattern in the 2020 election, a combined measure of stated and derived vote likelihood, and gender to ensure representativeness. It has an overall margin of error of + 4.5 percentage points including the design effects resulting from weighting.