It's nearly Election Day, and the frontrunners in Florida's biggest political horse races are maintaining — or expanding — their leads.
An exclusive Spectrum News/Siena College poll snapshots opinions and preferences of 659 likely voters from Oct. 30 through Nov. 1, 2022 with a 4.4% margin of error.
---
Decision 2022
DeSantis grows his lead to double digits, now 12 points ahead of Crist


Rubio widens his advantage over Demings, now leading by 9


Most likely voters say Florida is on the right track, but the country is on the wrong track


Most Floridians are "completely" or "somewhat" satisfied with DeSantis' Hurricane Ian response

DeSantis pulls further ahead
Gov. Ron DeSantis now commands a double-digit lead over his challenger, Charlie Crist. More than half of likely Florida voters (54%) now say they'll vote to reelect the Republican, while 42% say they'll cast their ballot for the Democrat.
In a late September poll, 49% of respondents said they planned to vote for DeSantis, and 41% backed Crist.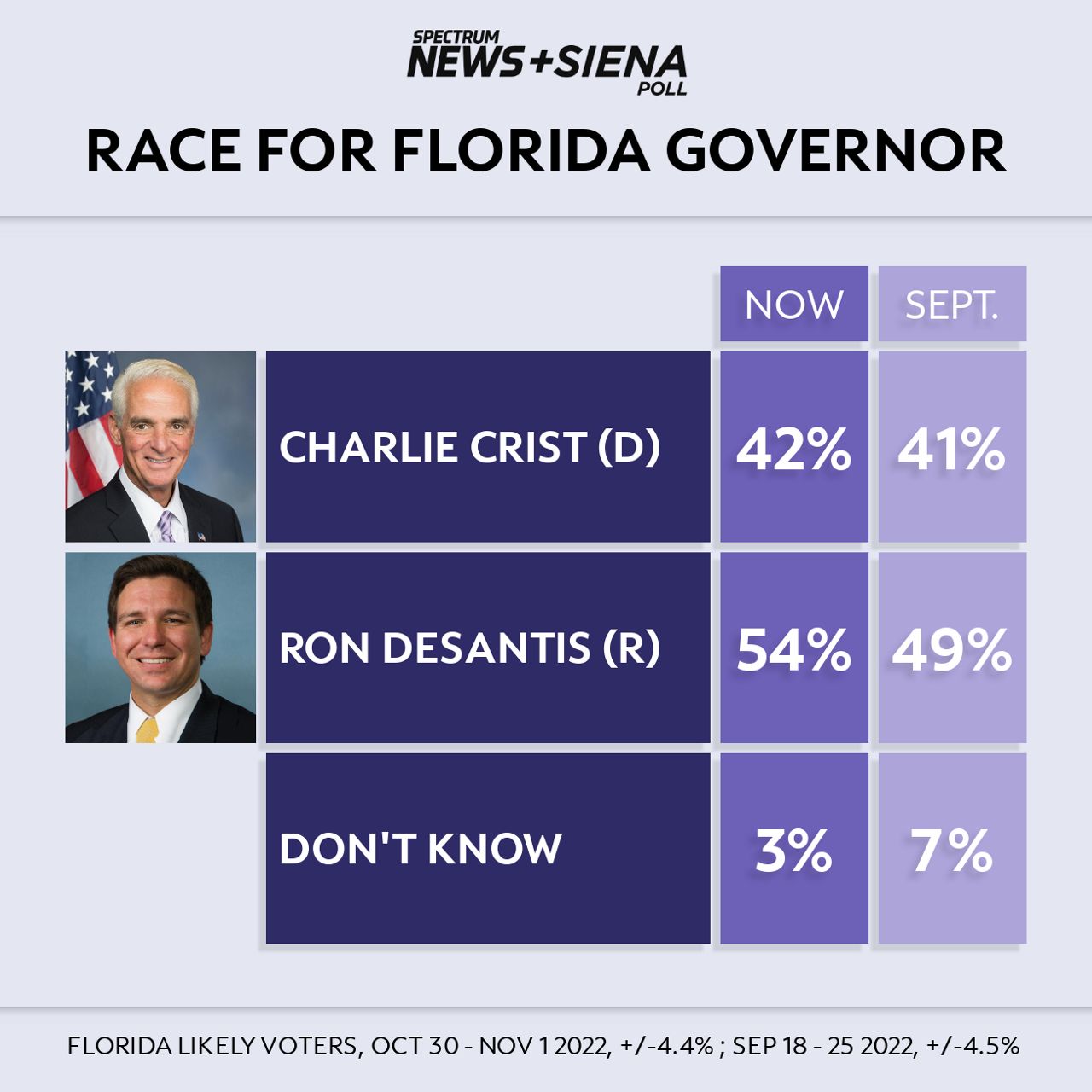 DeSantis currently enjoys a 25-point lead among Latino voters, he's 20 points ahead with independents and polls above Crist with both men and women.
A 5-point boost in his overall favorability since September, likely built on positive views of his response to Hurricane Ian, helped fuel the incumbent's gains. Crist's favorability dropped five points further into the negative.
Rubio maintains his lead
Despite the early possibility he'd face a heated challenge for his U.S. Senate seat, Marco Rubio continues to keep Val Demings from gaining ground.
A majority of likely voters (51%) now say they'll vote to keep the Republican in Washington, while 42% want to see him replaced by the Democrat.
In September, 48% of respondents supported Rubio, and 43% planned to vote for Demings.
Elected to Congress in 2017, Demings has struggled to increase her name recognition statewide. While more Florida voters view her favorably than unfavorably, 31% either had no opinion or didn't answer the question.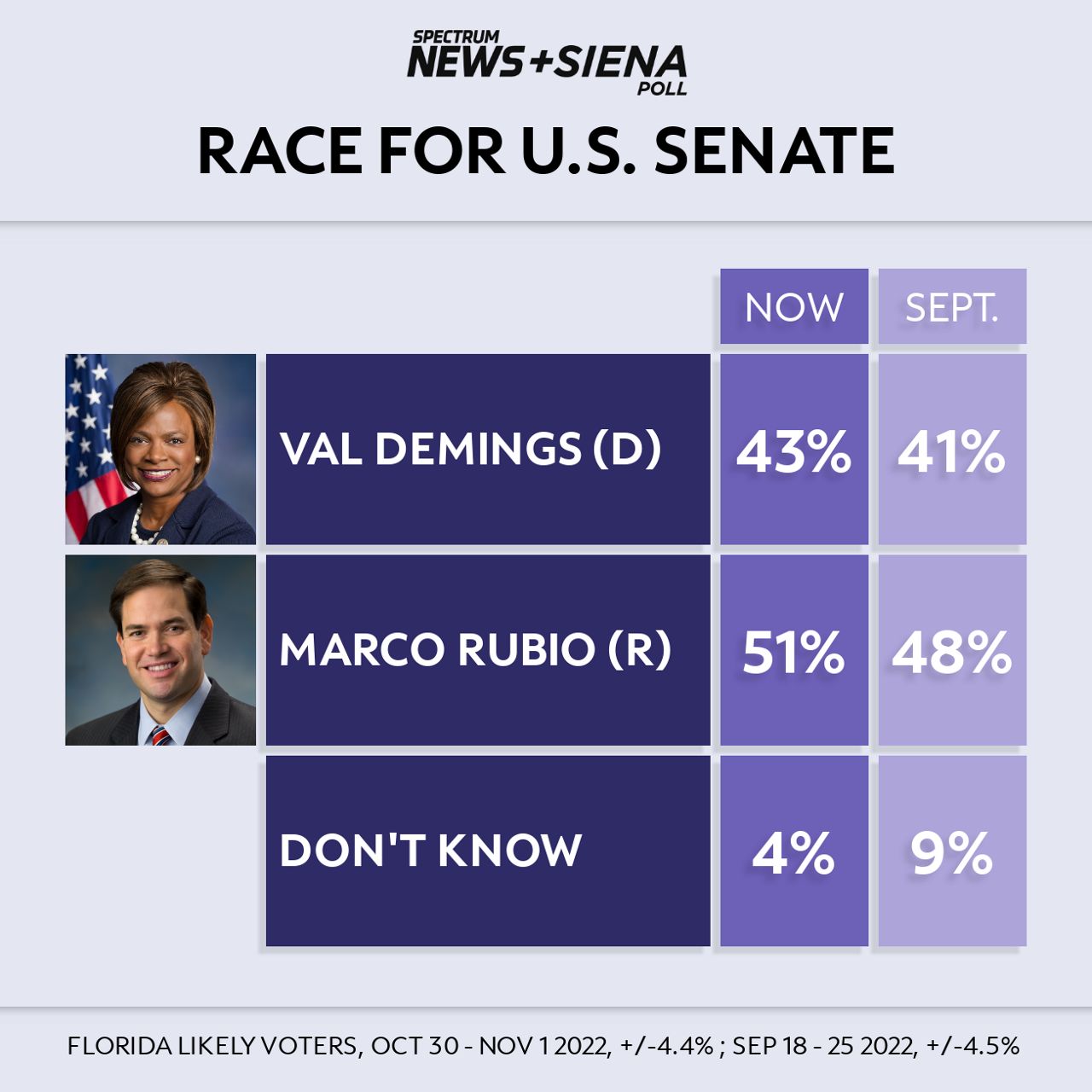 Top cop race is least competitive
Attorney General Ashley Moody appears poised to walk away with a win in her race for reelection.
The Republican holds a commanding lead (14 points) over her Democratic challenger, Aramis Ayala.
Moody was seven points ahead when likely Florida voters were polled in late September and is likely benefitting from the Republican governor's popularity.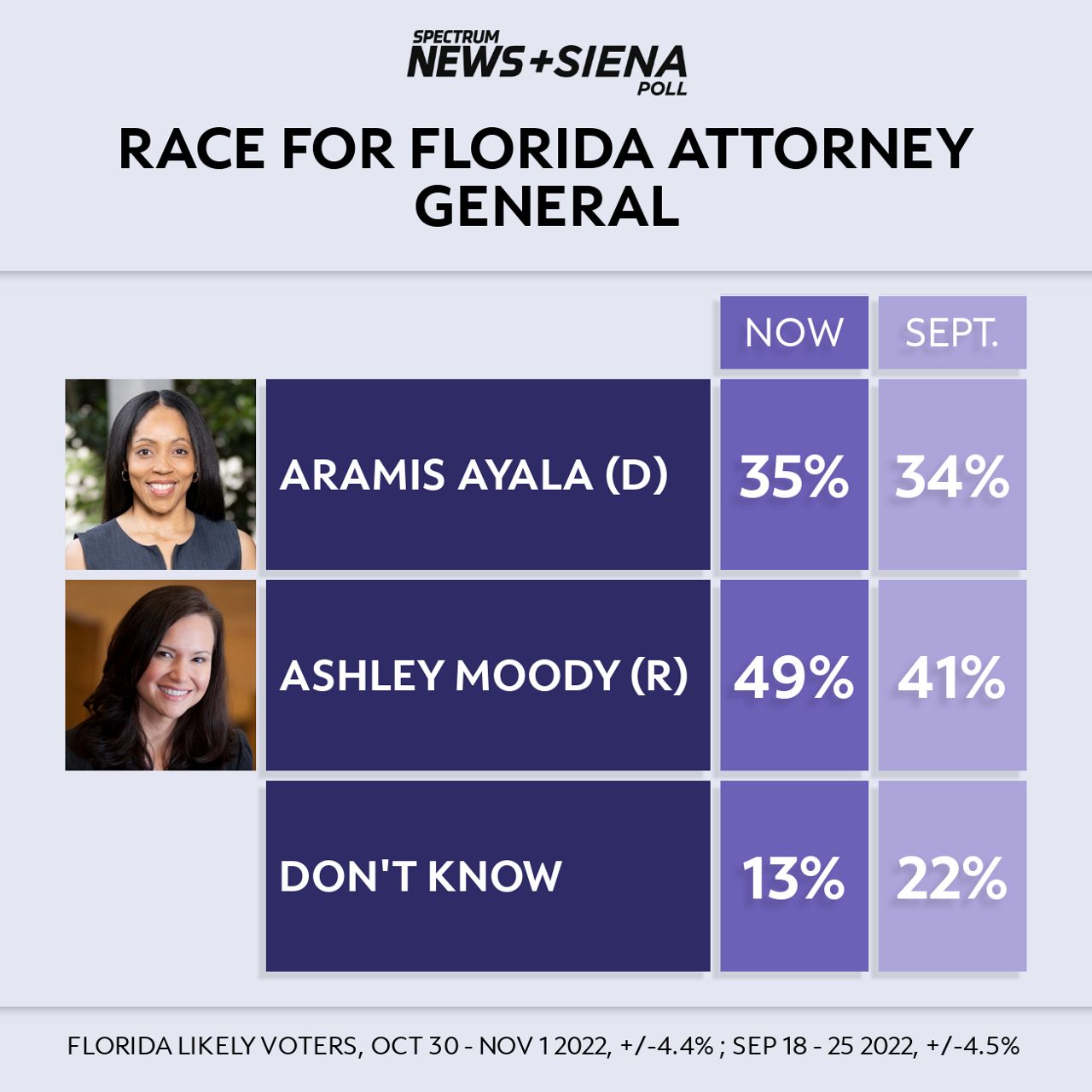 Heading in opposite directions
A solid majority of Florida's likely voters (57%) believe the state is on the right track — but 63% say the country in heading in the wrong direction.
The numbers remain mostly unchanged since late September.
Unsurprisingly, respondents content with Florida's direction go for DeSantis over Crist 85 to 12.
Floridians dissatisfied with the country's path support Rubio over Demings 83 to 13.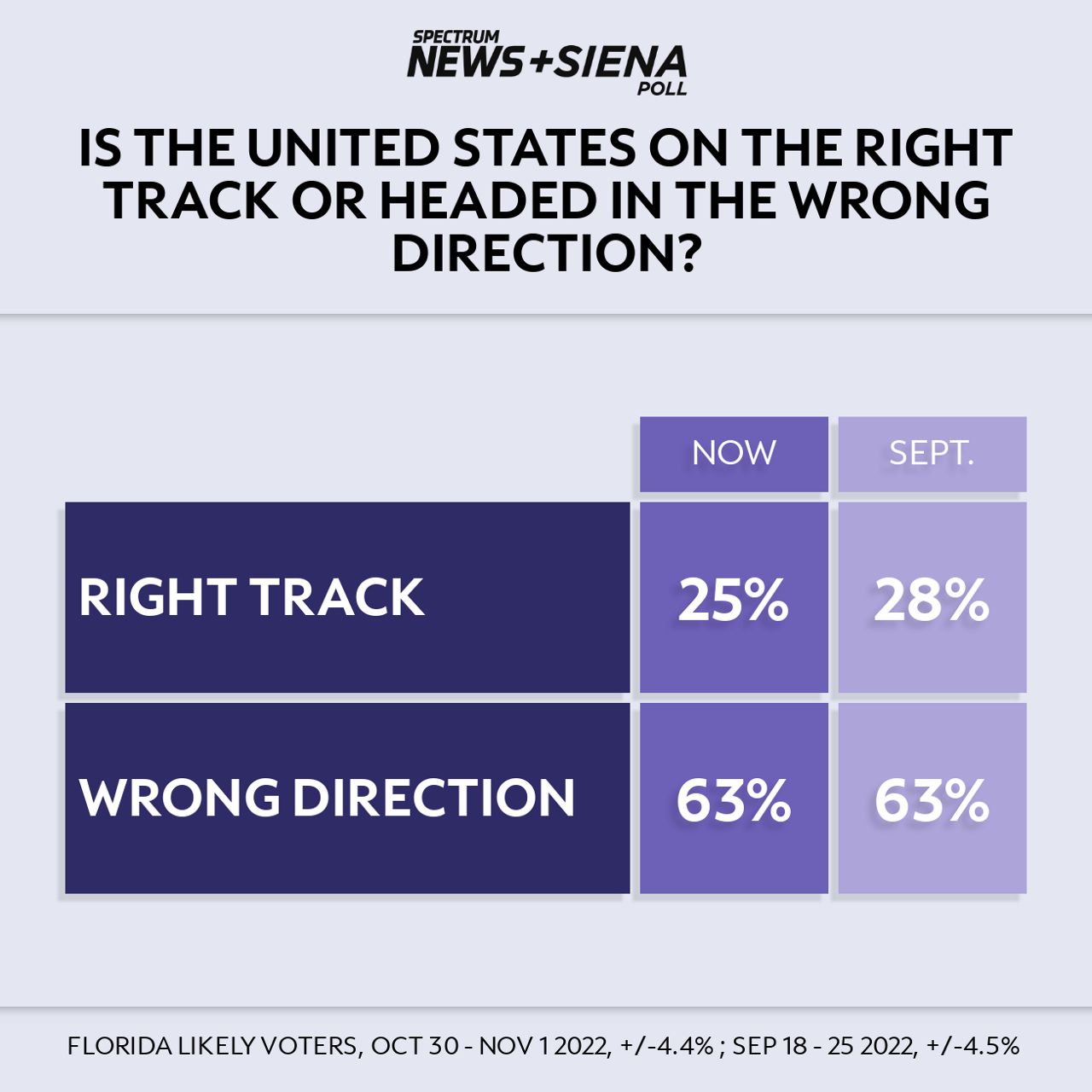 Grading the governor's hurricane response
From coastal storm surge to inland flooding, almost a quarter (23%) of Florida's likely voters say they were "very seriously" or "somewhat seriously" impacted by Hurricane Ian.
A major hurricane making landfall in late September could have had a big impact on the November election — and the fate of the incumbent governor.
The data clearly shows DeSantis' handling of the disaster certainly didn't damage him politically, and it may have even helped build his lead over Crist.
An overwhelming 72% say they're "completely" or "somewhat" satisfied with DeSantis' response.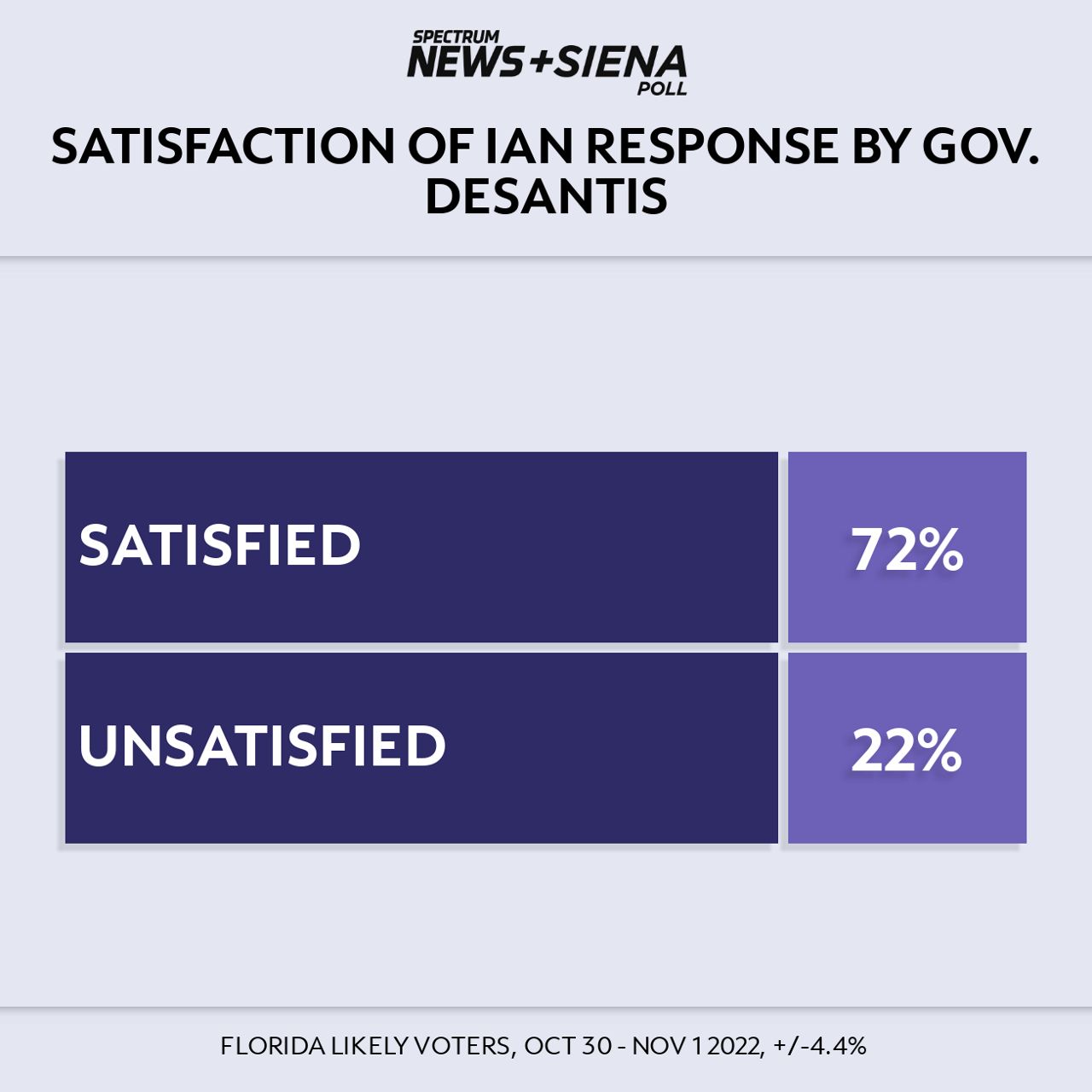 Floridians aren't fans of Biden or Trump
While DeSantis holds a solid grip on Donald Trump supporters in his reelection race, just 44% of Florida's likely voters view the former president favorably. Half of them hold an unfavorable view of Trump.
That represents a slight improvement since September, when 53% of respondents viewed him negatively.
The current president fares even worse among Floridians, but that hasn't changed since the last poll.
A solid 55% of respondents hold an unfavorable view of Joe Biden, while just 40% view him favorably.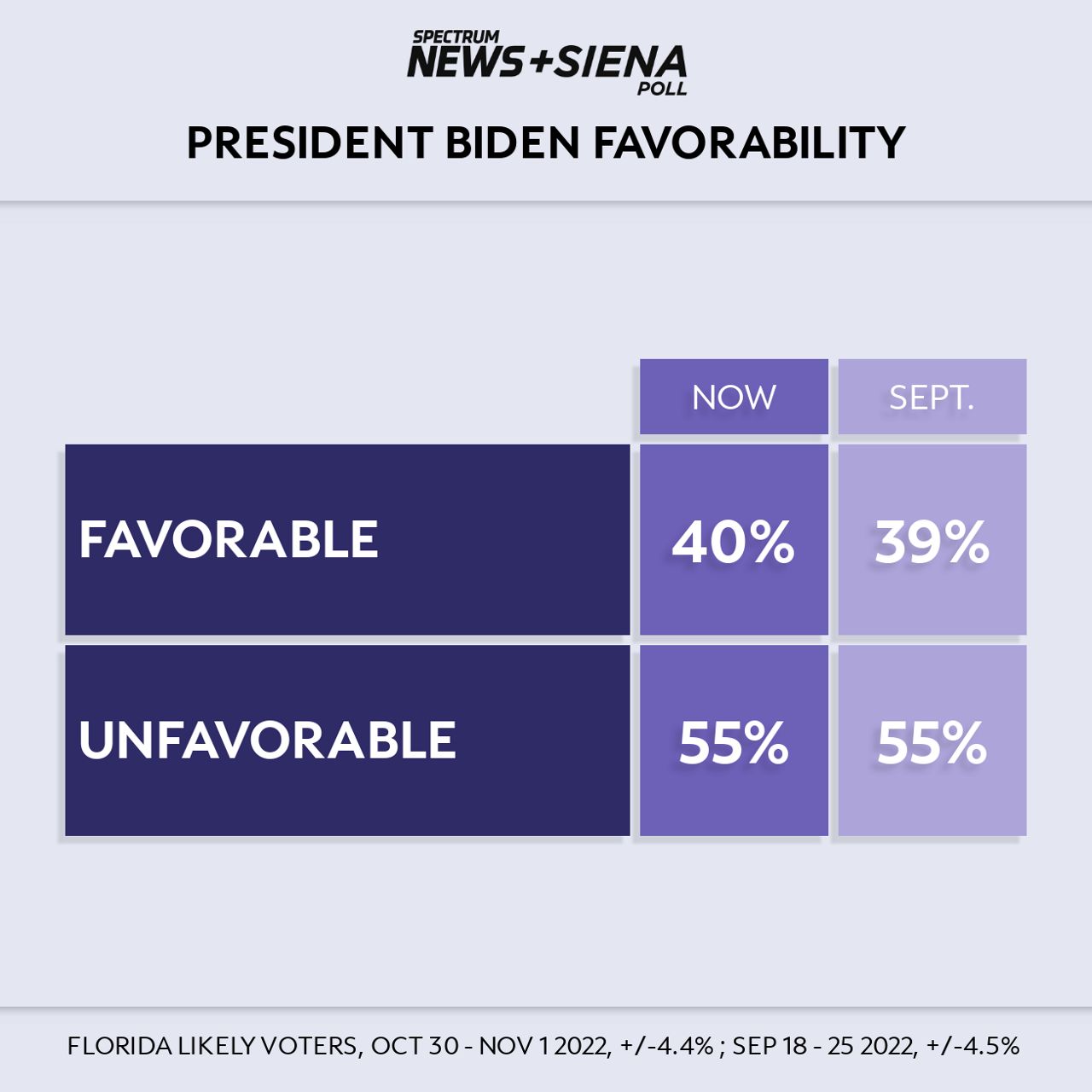 This Spectrum News/Siena College survey was conducted October 30-November 1, 2022, by telephone calls in English to 659 likely Florida voters. Telephone sampling was conducted via a weighted stratified dual frame sample of landline and cell phone drawn from the L-2 database of registered voters. Data was statistically adjusted by age, race/ethnicity, education, political party, regional vote pattern in the 2020 election, a combined measure of stated and derived vote likelihood, and gender to ensure representativeness. It has an overall margin of error of + 4.4 percentage points including the design effects resulting from weighting.