BREVARD COUNTY, Fla. — After canceling a launch over weather concerns the day before, United Launch Alliance successfully launched an Atlas V rocket carrying two satellites into orbit Friday night.
The mission, dubbed USSF-12, launched from Cape Canaveral Space Force Station (CCSFS) Space Launch Complex 41 (SLC-41).
---
What You Need To Know
USSF-12 is a $1.1 billion mission for the U.S. Space Force's Space Systems Command


The mission is part of a broad strategy of combating long-range missiles and hypersonic weapons


ULA launched two satellites for this mission on Friday evening from Cape Canaveral Space Force Station
---
On Thursday, Jessica Williams, weather officer for Space Launch Delta 45 Weather Squadron, issued a weather briefing at noon and said weather was 40% favorable for launch at the start of the launch window that day, with conditions improving to around 60% by the end of the two-hour launch window. Weather concerns caused the launch to be scrubbed around 7:30 p.m.
As part of the mission, ULA is launching a pair of satellites for the U.S. Space Force's Space Systems Command (SSC) using an Atlas V 541 rocket, which features four GEM 63 solid rocket boosters from Northrop Grumman.
Thursday's mission will be the ninth use of the 541 launch configuration, which is also known as "Beast." It was first used in November 2011 for the launch of NASA's Mars Curiosity rover. Most recently, ULA used it to launch the GOES-T satellite for the National Oceanic and Atmospheric Administration (NOAA).
It will also be the 94th national security mission for ULA.
"This is a long time coming and since the beginning of this mission, the entire team has worked tirelessly to integrate two cutting edge spacecraft with numerous critical R&D payloads," Lt. Col. Jonathan Shea, the Department of Defense (DoD) Space Test Program (STP) Director, said during a media teleconference on Tuesday.
"Once on orbit, these missions will fully keep pathfinders for future capabilities and deliver innovative technologies to help us advance our knowledge to inform future missions," Shea added.
What is the USSF-12 mission?
Nestled inside the five-meter diameter payload fairings are two satellites: the Wide Field of View (WFOV) Testbed for the SSC's Space Sensing Directorate and the USSF-12 Ring spacecraft, a part of the STP.
The WFOV is part of the Space Force's larger mission of working to track long-range weapons, like missiles and hypersonic weapons.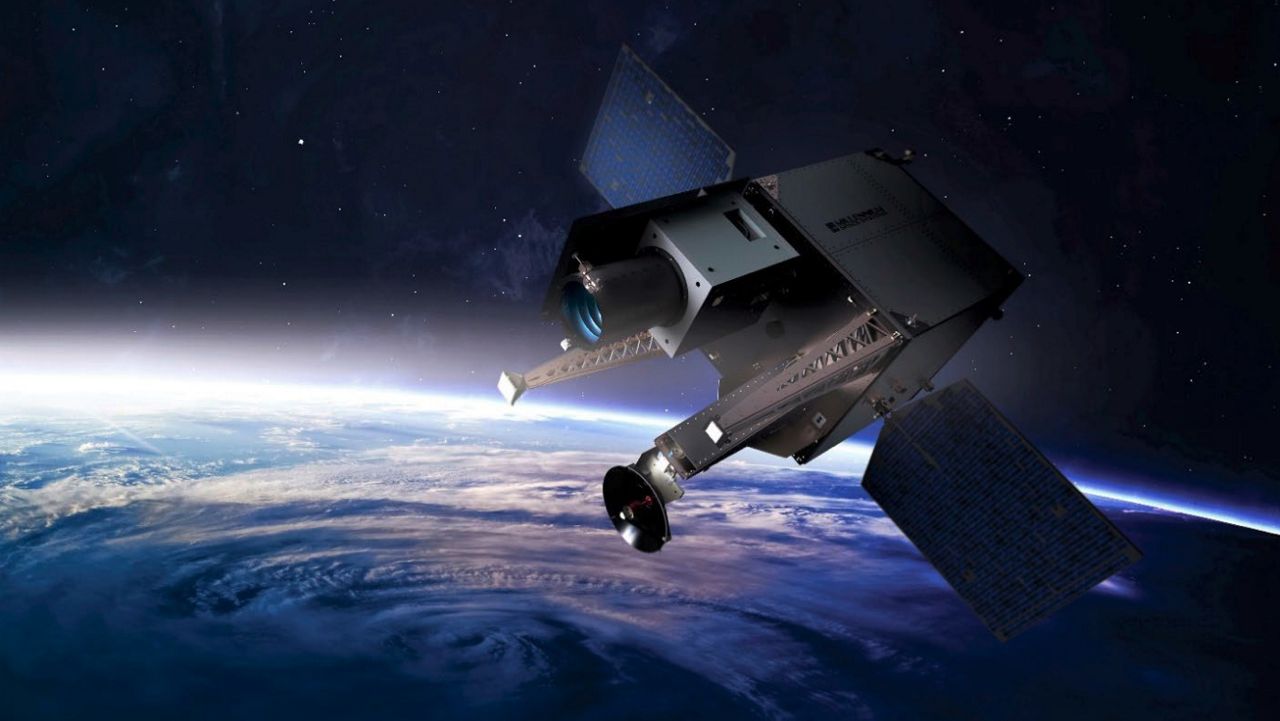 ("WFOV GEO Testbed satellite rendering;" Courtesy Millennium Space Systems)
"Back in May, Space Force Chief of Space Operations General (John) Raymond stated the Space Force's number one mission is the missile warning and missile tracking system," said Col. Brian Denaro, the program executive officer for Space Sensing, Space Systems Command. "Our Space Force USSF-12 mission is an important first step in that priority mission area."
The WFOV is designed for three years of experimental use. Its positioning in geosynchronous orbit and its six-degree staring sensor will provide "a large field of view for a regional coverage of the Earth's surface," Denaro said.
"This mission will give us unprecedented 24/7 coverage across 3,000 plus kilometers over the Pacific Theater," said Col. Heather Bogstie, the senior materiel leader for the Resilient Missile Warning, Tracking and Defense Acquisition Delta at SSC.
"Also unprecedented is the launch of the SBIRS GEO-6 mission later this month, which means there will be two OPIR (Overhead Persistent Infrared program) satellites launching in a very close timeframe, further increasing the U.S. missile warning capability," Bogstie added.
Col Bogstie said that one of the key new features of WFOV is its better imaging capability by using a 4K by 4K "focal plane with reduced noise."
"It's also one of the inaugural demonstrations to fly a tactical cryocooler, at a substantial cost savings, and an internal calibration unit to minimize the stress on the ground data processing system," Bogstie said.
In response to a press question, Col. Denaro on Tuesday reiterated the significantly increasing military capabilities from both Russia and China as key drivers for this work.
"If you can imagine with our current systems, they largely rely on a ballistic trajectory of those missiles with a predicted impact point," Denaro said. "The change in the threats that we see coming online today are highly maneuverable. And so, it's harder to predict where those missiles are going to go. Therefore, the need to be able to track those missiles throughout their course of flight."
Officials declined to go into much detail about the USSF-12 Ring, the second payload being deployed on Thursday.
"I can say the experiments and pathfinders on this are applicable across the range of USSF core competencies and help to advance our technologies, which is what the Space Test Program has been doing for 57 years now," Shea said.
Those on Tuesday's call also declined to go into specifics on why the launch was pushed from an April launch date. On March 9, ULA said in a statement that the delay was "due to a customer request." On Tuesday, Col. Erin Gulden, the senior materiel leader of the Atlas V and Delta IV division for the Space and Missile Systems Center's Launch Enterprise Directorate, said there wasn't just one central issue.
"There's a lot of different things that go into how we orchestrate the manifest. And as we looked forward, we needed to just make some adjustments to be able to close some activities and make sure that we were really ready to launch this fully integrated stack," Gulden said. "So, bottom line, there was not one key item that caused the delay. It was a combination of several things."
Future missions
As part of the National Security Space Launch (NSSL) Phase 2 Procurement contracts, both ULA and SpaceX have been awarded multiple missions in a roughly 60-40 split in August 2020. The ULA task order along with launch service support for the USSF-51 and USSF-106 missions totaled $337 million.
SpaceX's was handed the USSF-67 mission, along with "subsequent contract modifications and LLS" totaled $332 million.
In a statement to Spectrum News, Col. Chad Melone, division chief of Launch Procurement and Integration said that Phase 2 Task Orders "are issued annually to both providers for specific launch missions."
He said that both USSF-67 and USSF-44 are scheduled to launch in Q1 of FY23.
On May 26, 2022, Space Systems Command ordered eight additional missions under the Phase 2 LSP contract:
ULA – Vulcan Centaur rocket
GPS III-7
USSF-232
USSF-43
WGS-11+
USSF-16
SpaceX – Falcon 9 rocket
USSF-124
USSF-62
SDA-Tranche 1
Watch the launch live starting at 6 p.m. EDT: