ORLANDO, Fla. — It's the way of the future. While some Central Florida communities consider launching driverless shuttles to move people about their community, the University of Central Florida (UCF) is also testing an autonomous shuttle for students to take on campus.
Separately, some engineering students are taking matters into their own hands: Associate Professor of Electrical and Computer Engineering Yaser Fallah, Ph.D., has students working to advance vehicle smart features and curb car crashes. Their work factors into vehicle production at Ford, Hyundai and Kia.
---
What You Need To Know
Driverless vehicles are being tested at the University of Central Florida


In a separate project, engineering students are honing their skills to advance smart car features for major automakers


Professor Yaser Fallah's work has been featured in vehicle production for Ford, Hyundai and Kia
---
Freshman Owen Burns is passionate about putting together cars; specifically robots, in his undergraduate engineering class. He says it runs in the family, since his father works for Microsoft. One day, he hopes to do the same.
"I'd like to work at one of the big tech companies like Microsoft or Google," Burns said.
A Central Florida native from Altamonte Springs, Burns is inspired to advance technology like that in smart cars. He firmly believes it's going to drive the future.
Even so, the student still rides his bike to class, he explains: the autonomous shuttle on campus is still a little slow for him.
"If there were driverless shuttles that had a wider range, I can see that being cheaper than an Uber which would be great," he thinks to advancements off campus.
He and his peers work in the lab, to program smaller-scale cars. Test models map their environment so they can steer clear of objects and people. It's similar to technology in the real world, like for Tesla vehicles, graduate students explain. The cars are taught to see and think, almost.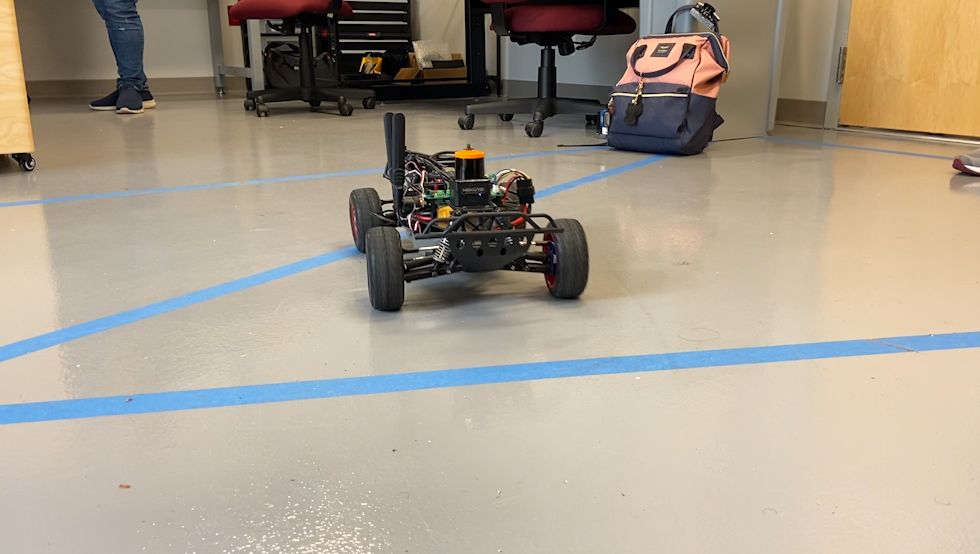 "Yeah…(laughs) I mean, that's what we do. That's my Ph.D. research focus also," Nitish Gupta laughed.
There's some really rewarding payoff, too. The toy-like models have a counterpart — the life-sized shuttle Professor Fallah gets to drive for demonstration.
He's been working in this field for more than a decade, from California to West Virginia, and now at UCF.
"You see, like the two pedestrians that the cars detected," he demonstrated. "So the car figures out where they are," Fallah gestured to monitors on the vehicle.
He beamed with pride, relating the success of his work and of his students,' that it's "being part of every new car being produced in the US."
Fallah says he's worked with companies like Ford, Kia and Hyundai to adjust safety features in real cars out on the roads.
"If it prevents even one crash, that's enough for us," he keeps the end goal in mind.
It's remarkable to those students like Burns, too.
"[It's] crazy to see all that happening, and there's a lot more distance to cover there," Burns said.