CELEBRATION, Fla. – Housing that's affordable is tougher than ever to come by in Central Florida. Just ask Tammy Elwess.
"My husband, myself and my daughter, we've lived in 'the hotel system,' as I call it, for six years," Elwess said.
Right now, they pay $1,100 a month for their hotel room in Osceola County. Elwess says they don't earn enough income to move into an apartment of their own; her husband earns $14.25 per hour.
"It's hard when you have to come up with the deposit, first and last month's rent, and then you've got to do the application fees," Elwess said. "It's a struggle."
It's families like hers that inspired Bettina Grzeskowiak to launch her nonprofit, Embrace of Celebration, in summer 2020. The volunteer-based group distributes donations of fresh produce, food and other essential items to "hotel families" living along Route 192 every Saturday, when most other local aid organizations are closed.
Every weekend, Grzeskowiak says they're able to feed approximately 75 families, or about 200 individual people. Each bag of goods they distribute also comes with a comprehensive list of local relief groups, including organizations specializing in housing assistance and placement, like the Coalition for the Homeless of Central Florida.
Not too long ago, Grzeskowiak connected Adriana Lizarraga with the Coalition. Lizarraga and her partner had previously been living in a hotel for two months. After connecting with the Coalition and getting help with a security deposit, they've since moved into a place of their own.
"Bettina is an angel," said Lizarraga, who now volunteers with Embrace each Saturday, distributing donations to current residents of the hotel where she used to live. "Embrace of Celebration helps a lot of people."
But in Central Florida, the need for more affordable housing options far surpasses this one small nonprofit's capacity. This February, median rent rose 34 percent from what it was in February 2021 in the greater Orlando area, which includes Kissimmee. Wages aren't going up at the same rate, though – and that's one of the main problems, Grzeskowiak says.
"Our families in the hotels, they just make the basic minimum wage. They work for Disney, they work for 7-11, for hotels or for restaurants and kitchens, even in construction. But they don't make enough money," Grzeskowiak said. "Even $18 [per hour], it is not enough. You need at least $20 or $25 [per hour] in order to pay just the basic needs."
Disney World just announced its ambitious idea for a new affordable housing community, the latest local theme park to do so, following Universal Orlando's 2020 announcement of a similar project. Neither company has yet locked in a developer. In total, the two plans call for approximately 2,300 additional affordable housing units.
But new housing development takes time, and hundreds of Central Floridians are already suffering from housing insecurity right now. So Grzeskowiak spends about twelve hours each Saturday – her only day off from her work as a housekeeper – coordinating donations of essential goods for many of those struggling Central Floridians.
Grzeskowiak doesn't do it alone, though. She says she's overwhelmed by the generosity of Celebration community members, who donate everything Embrace distributes – besides the food, which is provided by Second Harvest.
And it's not just adults helping out. Each week, before distribution efforts get underway, Grzeskowiak leads a youth group for high school volunteers. There, the high schoolers design miniature notebooks with inspirational quotes and messages for the kids living in hotels along Route 192.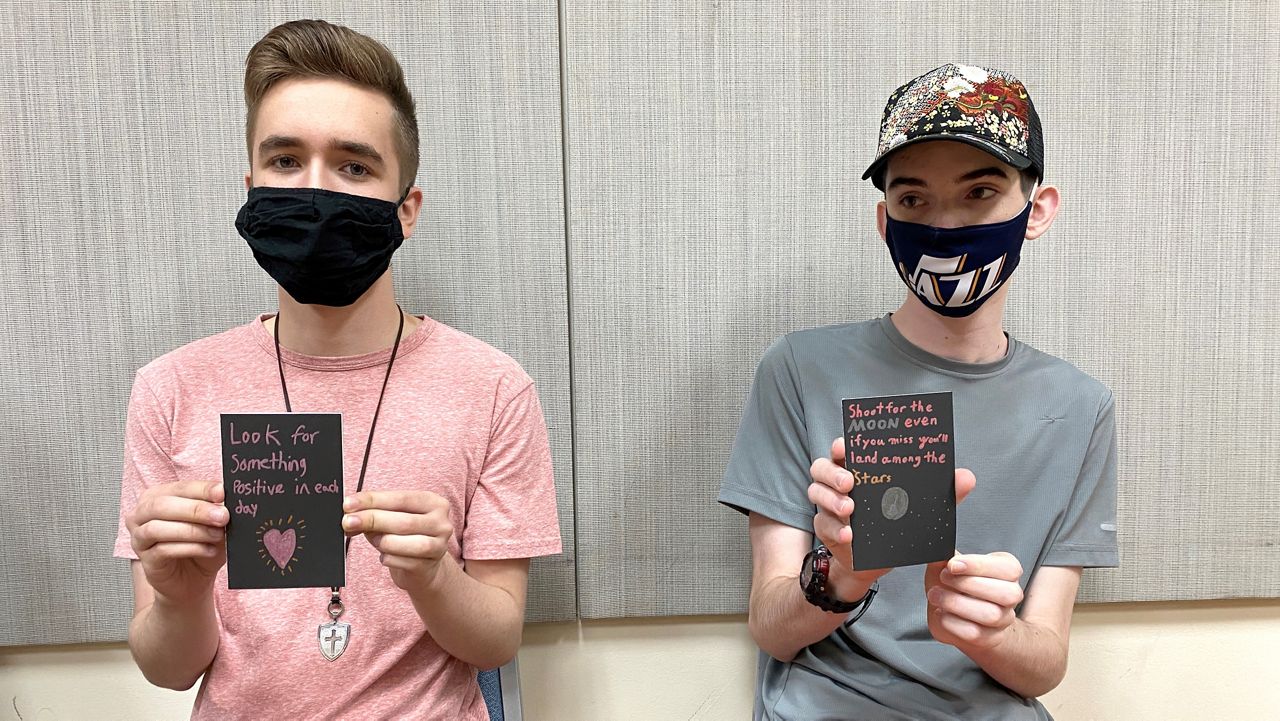 High school students and volunteers Luke Sipple (left) and Guy Coyne show some of the motivational messages they help distribute. (Spectrum News/Molly Duerig)
"We do it to inspire them, and to motivate them," said high schooler Valeria Cadavieco, who helps run the group's Instagram account. Group members focus on ways to support other youth in need, including by trying to stop bullying.
On the front of each notebook is the phone number for the Speak Out hotline, an anonymous tip line anyone can use to report a threatening behavior or situation in their school or community. Live operators answer the tip line 24/7, at 1-800-423-8477.
The youths' emotional support of kids who are housing insecure, Grzeskowiak says, is crucial: it's just as important as meeting folks' physical needs for things like food and shelter.
"We need the food, we need the help, we need the hugs, we need everything," Lizarraga said.