ORANGE COUNTY, Fla. — Faced with rapidly increasing numbers of COVID-19 cases, the Orange County School Board on Tuesday night approved a 60-day mask mandate for everyone at its pre-kindergarten through 12th grade public schools.
---
What You Need To Know
The Orange County passed a mask mandate at its meeting Tuesday


Previously, parents had been able to opt their children out of wearing a mask


The move was made as COVID cases and quarantines surged in the district


The mandate will begin Monday and be enforced for the next 60 days
---
The mask mandate will begin Monday, Aug. 30, and ends Saturday, Oct. 30.
Parents had been able to opt their children out of the previous mandate by sending a note to school, but the new rule significantly narrows the ability for a student to go maskless. Now, the only way to opt out is with a note from a doctor or other medical practitioner.
"For those that had exemptions last year, I'm going to make an assumption that you're still using that same exemption this year. You won't need to re-do that process. We are looking to make it as simple as possible, letter from your physician on letterhead or on his prescription tablet," said Dr. Barbara Jenkins, the Orange County Public Schools superintendent, during the meeting.
The school board informed parents with the following letter: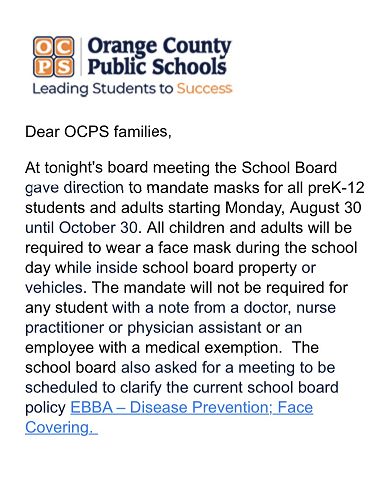 School Board member Melissa Byrd said that parents need to understand the decision.
"I don't want to see any of this either. I want it back to normal too, just like everyone else. But, it's not going to get back to normal, until we all start taking the measures that we need to take to get this virus, which yes is probably going to be here forever, but get it down where it's manageable," she said.​
Orange County became the latest school district to defy an executive order by Gov. Ron DeSantis, which bans face masks in schools, joining Hillsborough, Broward, Sarasota, Leon, Alachua, Miami-Dade and Palm Beach counties. The Florida Department of Education has threatened to withhold pay for the superintendent and school board members in Broward and Alachua counties for defying DeSantis' order.
Since Aug. 2, OCPS has reported 2,518 positive COVID cases, including 1,968 students and 537 employees. It has quarantined 1,491 individuals, including 1,485 students. The district had issued 557 active quarantines Tuesday and 433 Monday, but these are active numbers and can change. Cypress Creek High School had the most cases, with nine as of Aug.18, which was the last date reported for individual schools. West Orange High School had eight cases.
The decision came as parents, teachers and political activists have debated whether schools should make the move to try to limit the spread of the virus within public schools.
There is also a lawsuit being argued in court over DeSantis' ability to issue the executive order in the first place.
Orange County Mayor Jerry Demings said Monday that he has had regular conversations about masks with Orange County Public Schools Superintendent Dr. Barbara Jenkins and some school board members.
"They are elected to make some decisions on behalf of the students, the over 200,000 students here in Orange County, and I respect the positions that they're in," Demings said at a regular county coronavirus news briefing. "I also will say that I believe that given the current experience with the rate of infection amongst children — I have four grandchildren in Orange County Public Schools, most of them in the elementary age — I believe that some form of mask mandate is appropriate at this time, given our experience."
Also Monday, Florida Department of Health-Orange County epidemiologist Alvina Chu said residents age 5 to 14 years old had emerged as the age group that contributed, at 20%, the highest proportion of cases in the county as of Sunday.
The U.S. Food and Drug Administration has yet to approve a COVID-19 vaccination for children under age 12.
"What happens in schools and to those children is a reflection of what's happening in the community," Chu said. "So to protect those who are unable to get vaccinated, we encourage everyone to continue the pandemic precautions and to get vaccinated."
She added: "The pandemic is occurring primarily in those who choose not to be vaccinated and those who cannot be vaccinated."
Scott Howat, chief communications officer for Orange County Public Schools, also said at Monday's coronavirus news briefing that the school board had an executive session on Monday to discuss a lawsuit brought by parents who challenged DeSantis' order banning mask mandates.
The lawsuit, filed in U.S. District Court for the Southern District of Florida, named Orange County Public Schools among other school districts as defendants for failing to mandate the use of masks. That lawsuit is separate from a similar suit that continues for a third day on Wednesday in Leon County.
After the School Board vote Tuesday, Florida Sen. Linda Stewart (D-Orlando) came out in support of the decision and hosting one COVID-19 testing location each day. Test sites on Monday- Friday are open for OCPS students, parents and staff, and on Saturday and Sunday, they are open for students, parents, staff and community members..
"I am happy to see our constitutional officers taking a stand to place the safety of our children at the forefront of policymaking," she said in a statement. "This decision takes a position against threats from the Governor and Commissioner of Education, and continues to exercise the importance of home rule. We cannot continue to ignore the number of students and staff testing positive for COVID-19. Today's action will help prevent the spread of COVID-19, unnecessary school closures and protect students' scholarship opportunities. OCPS members have done what is needed to keep all our children safe."
The district has taken other steps to try to curb the spread of COVID-19, including enhanced cleaning procedures, providing vaccinations on various campuses and hosting one COVID-19 testing location each day. Test sites Monday- Friday are open for OCPS students, parents and staff, and on Saturday and Sunday for students, parents, staff and community members.
Spectrum News 13 reporter Peter Reinwald contributed to this story.