ORLANDO, Fla. — Florida only has enough affordable, available housing for 28% of its extremely low-income renters, according to The Gap, an annual measurement of rental housing affordability published by the National Low Income Housing Coalition. In the greater Orlando area, you're considered extremely low-income if you earn $16,050 or less annually as a single person.
To help fill the gap, Neighborhood Lending Partners secures funding to develop more affordable housing in Florida, drawing on support from the nonprofit's 32 member banks. The Tampa-based group has provided first mortgages for many affordable housing developments throughout the Orlando region, from Apopka's Wellington Park to Kissimmee's Cameron Preserve.
"It's very important that we provide... our workforce a place that they can afford, and that they can be proud of, and that they can come home to," said Thais Pepe, vice president and senior lender for NLP.
Pepe previously spent 15 years working for the Florida Housing Finance Corporation, the state's designated affordable housing agency. In her current role at NLP, Pepe scouts out sites for future affordable housing communities and helps choose assets that make sense for the people who will eventually live there.
For example, Pepe says it's critical to build developments close to community resources like grocery stores, schools and hospitals.
"People want to live either close to where they work or close to where the kids go to school," she said.
NLP helps create communities that range in scope and focus, including two projects the group currently has in the works: Hawthorne Park in Pine Hills and Durham Place in Edgewood. Both projects are in collaboration with Wendover Housing Partners, the Altamonte Springs-based developer selected to oversee Universal Orlando's affordable housing project.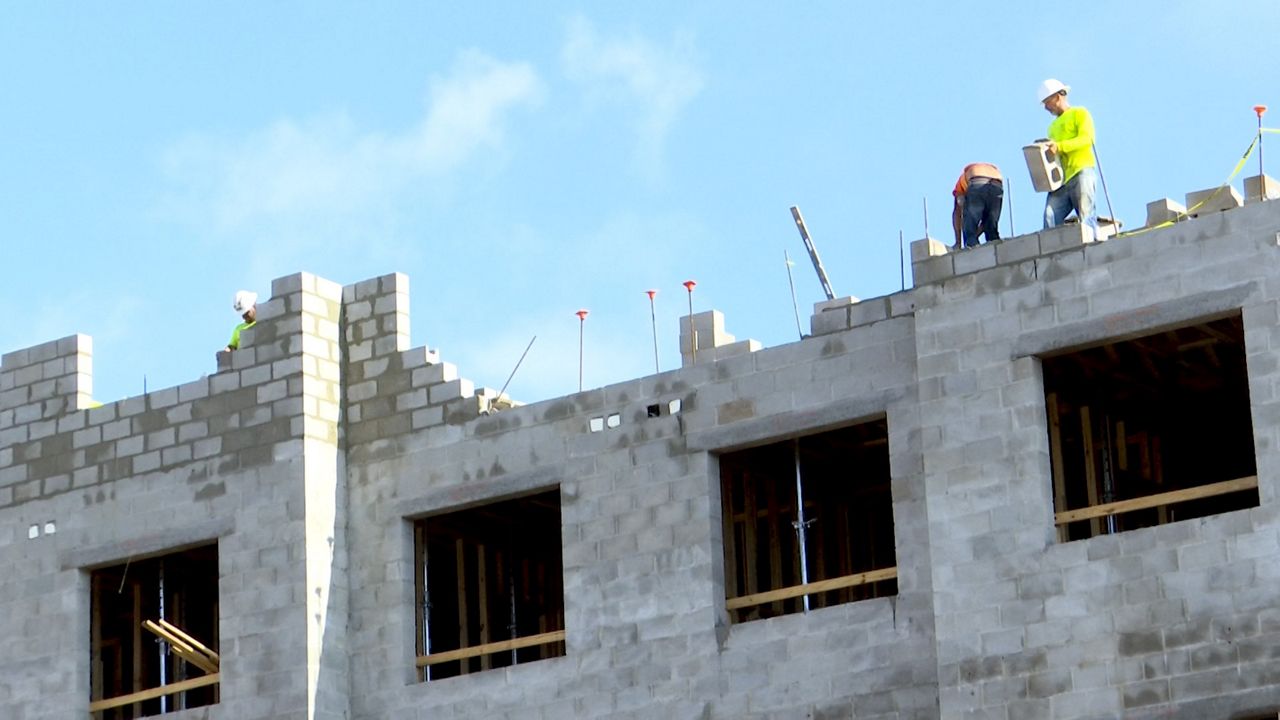 Workers build Hawthorne Park, an affordable housing community for seniors in Pine Hills that's expected to be fully built later this year. (Spectrum News 13/Molly Duerig)
Developers can take advantage of tax breaks for affordable housing projects if they reserve some units for lower-income renters. Hawthorne Park will be a senior living community after construction is expected to complete later this year, and at Durham Place, a majority of units will be reserved for formerly homeless people. That's the setup at Cameron Preserve in Kissimmee, where half the units are reserved for formerly homeless people who can access supportive services on site.
"They have job training, they have health and case managers that help them battle whatever they're going through, whether it's due to loss of job or health issues," Pepe said.
NLP helps leverage private funding to create new affordable housing stock.
Deconstructing the Sadowski fund
But public funding is crucial, too. That's where the state's "Sadowski" housing trust funds come in.
In 1992, the William E. Sadowski Affordable Housing Act created a dedicated source of revenue for affordable housing in Florida. Under this law, small taxes on real estate transactions are collected and earmarked for affordable housing. The revenue goes to what's commonly called Florida's "Sadowski housing trust fund," which is really two funds, each with a designated purpose and operating under a specific formula set by state statute.
At first, Florida's Sadowski fund was funded normally. But since 2002, Florida lawmakers have diverted, or "swept," over $2 billion of Sadowski money to other purposes besides affordable housing, according to an economic analysis commissioned earlier this year by the Florida Association of Local Housing Finance Authorities.
And this past legislative session, heads nearly rolled when lawmakers passed a bill permanently decreasing how much of the fund's revenue actually goes to affordable housing. Senate Bill 2512 reallocates half the fund's total revenue to two environmental initiatives addressing sea-level rise and wastewater systems. However, the bill's language also prohibits lawmakers from redirecting any future affordable housing dollars.
Initially incensed by SB 2512, Florida Housing Coalition CEO Jaimie Ross told Spectrum News she's developed a realistic, cautiously optimistic view of the Sadowski situation: at least now, advocates won't have to wait with bated breath each year to see how much lawmakers will slash from the fund.
"(SB 2512) set the amount of trust fund money that would be used for housing at a lower rate than it would be otherwise," Ross said. "However, we have been experiencing so much sweeping of the trust funds since 2002 that the amount that they cut is actually giving us more money than we've received in the last 13 years."
Amendment could change allocation
But even as the dust settles from SB 2512, changes could still be ahead for the Sadowski fund.
Florida Realtors, which advocated for the fund's creation in 1992, recently proposed a constitutional amendment that would protect the fund's revenue "from being used for non-housing purposes."
"When it's all said and done, we're about housing," said Mike McGraw, serving as vice president for Florida Realtors in 2021. "The goal is that 100% of the money raised through the documentary stamps goes toward housing."
But "housing" is an industry layered with complexities, and some advocates worry the Realtors' proposed amendment may not sufficiently protect the vast, complicated scope of work Sadowski funds have traditionally been well poised to support.
Cameron Preserve is in Kissimmee. Some of the units are reserved for people who experienced homelessness. (Spectrum News 13/Molly Duerig)
For example, the Realtors' amendment would increase the share of Sadowski revenue required to fund homeownership-related programs, according to FALHFA's executive director, Mark Hendrickson.
Currently, 45% of all Sadowski funds must address homeownership, with the remaining 55% earmarked for affordable rental programs. If the Realtors' amendment were to pass, 65% of all Sadowski money would go toward "programs related to the purchase of affordable housing, rather than programs related to the rental of affordable housing."
The Realtors maintain that their amendment wouldn't change the funding distribution currently set by Florida statute.
But Hendrickson says "the math doesn't add up."
Right now, a formula divides the total amount of affordable housing revenue between two pots of Sadowski money: one local, one state. Sixty-nine percent goes to the local pot, SHIP (State Housing Initiatives Partnership), while the remaining 31 percent funds the state's SAIL (State Apartment Incentive Loan) program.
Once Sadowski funds are divided between SHIP and SAIL, one more calculation remains on the SHIP side. Sixty-five percent of SHIP funds distributed to local governments must address a wide range of "eligible homeownership activities," including emergency repairs for low to moderate-income homeowners.
Hendrickson fears the Florida Realtors' amendment — which makes no mention of emergency repairs — could greatly limit local governments' ability to support affordable homeownership activities.
"What you have (right now) that's guaranteed to go to homeownership is 65% of 69%, but that's only 45% of the total," Hendrickson explained of the distribution formula in current law. To get their amendment on the 2022 ballot, Florida Realtors would need to collect almost 900,000 signatures from Florida voters by early next year.
Regardless of how exactly industry experts choose to move forward, one consensus is clear: Florida needs more affordable housing.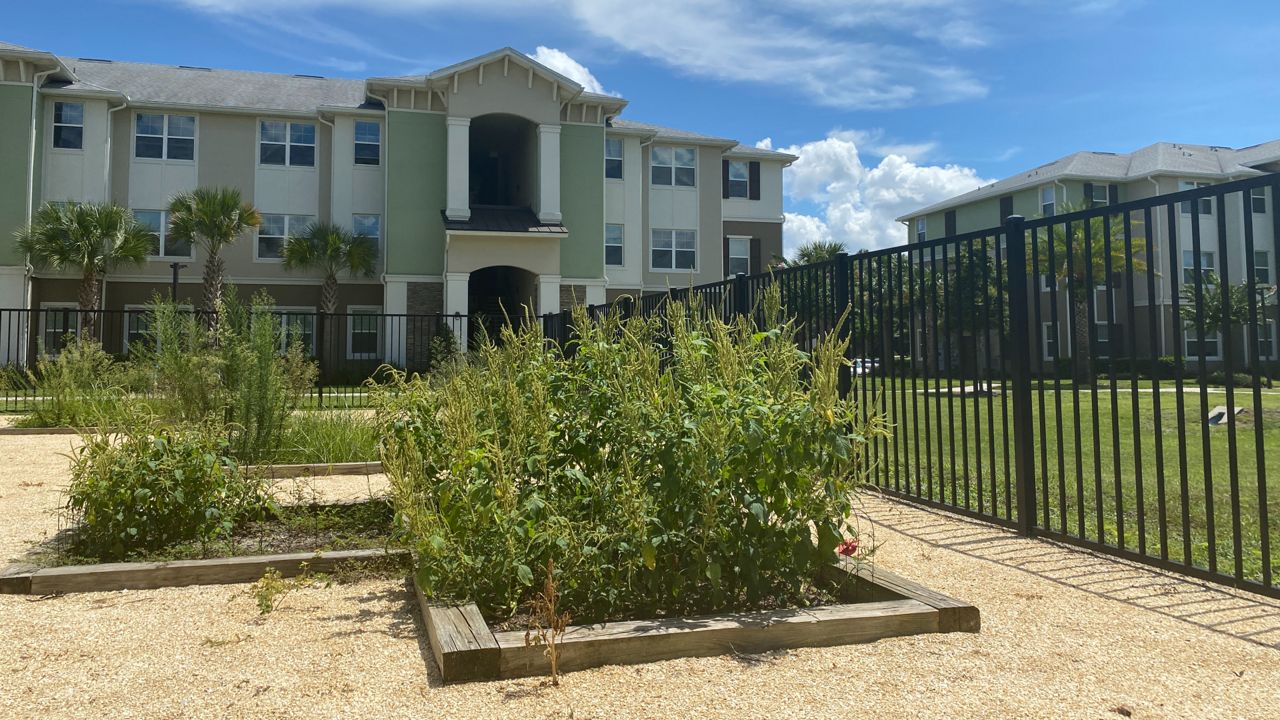 Neighborhood Lending Partners provided the first mortgage for Wellington Park, a family-oriented affordable housing community in Apopka. All units are currently full, with about 100 people on the waitlist. (Spectrum News 13/Molly Duerig)
It's clear from the people who knock daily on Cameron Preserve's front door, looking for housing, or the 100 people currently on the waitlist at Wellington Park, where staff recently grilled hot dogs for residents next to the onsite community garden.
"They're building an integrated community that people want to call home," Pepe said.
---
Molly Duerig is a Report for America corps member who is covering affordable housing for Spectrum News 13. Report for America is a nonprofit national service program that places journalists in local newsrooms to report on undercovered issues.