ORLANDO, Fla. — With Pipeline inching closer and closer to completion, SeaWorld Orlando is sharing more details about its upcoming attraction.
---
What You Need To Know
SeaWorld Orlando's new Pipleline coaster is set to debut this spring


The theme park invited media to a hard-hat tour of the construction site


Pipeline will feature a surf theme, giving riders the sensation they're riding the waves


---
The park invited members of the media on Thursday to go behind the construction walls for a hard-hat tour of the attraction, which is set to debut this spring.
Pipeline is inspired by surfing culture and it will offer plenty of thrills designed to replicate the sensation of riding the waves. One of those thrilling moments will happen at launch.
"You'll emerge from the station and go directly into a horizontal launch with an airtime moment where you'll reach 60 miles an hour," said Clint Brinker, vice president of design and engineering for SeaWorld Orlando.
From there, according to Brinker, riders will go up 110 feet before twisting and turning their way toward a water effect. The next big thrill will be the coaster's wave curl inversion, which will simulate an alley-oop surfing maneuver.
"The track layout was really designed with the intent of giving the experience of different maneuvers that surfers do in the water," Brinker said.
The ride will last about 110 seconds and have a total of five airtime moments.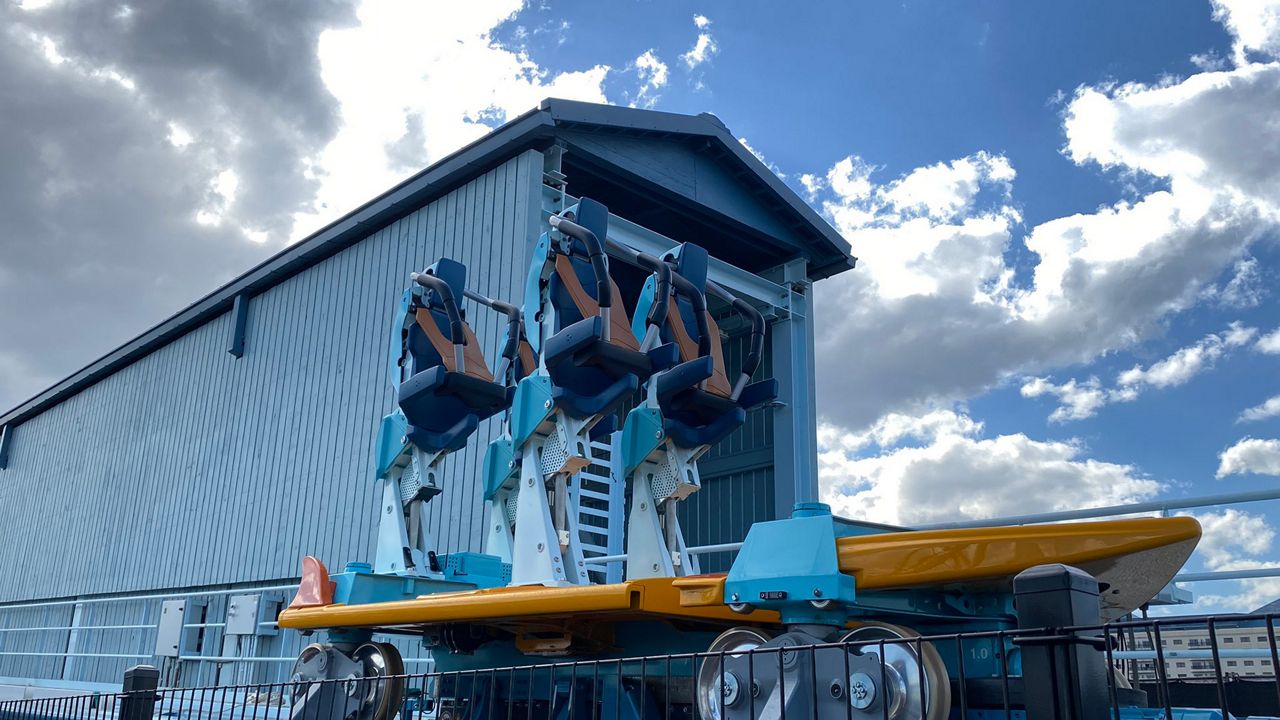 While aboard coaster trains designed to look like large surfboards, riders will be upright (instead of sitting down) while in motion. The seats can be adjusted to each rider, making the experience a bit more personal.
"Your seat is set to your personal height," Brinker said. "So that is going to be absolutely unique to each person."
SeaWorld first unveiled the Pipeline ride vehicle at IAAPA Expo in November. After the expo it was briefly put on display at the front of the park. During the hard-hat tour, one of the vehicles was positioned on the track.
The coaster's surf theme will also be reflected beyond the ride vehicles. The station will eventually look like Southern California lifeguard tower. The landscaping will get a beach-like theme. There will also be a gift shop nearby called High Surf, which will get a "rustic surf shack" look.
The coaster's more than 2,900 feet of track has been completed, but there's still plenty of work to do before the ride is ready for visitors, including hardscape work, pathways, fencing and, of course, testing.
Pipeline is located in an area of the park that was previously used for festivals and seasonal events. It will be SeaWorld's seventh coaster, joining Ice Breaker, Mako and Manta.
SeaWorld has not yet announced an opening date for Pipeline.